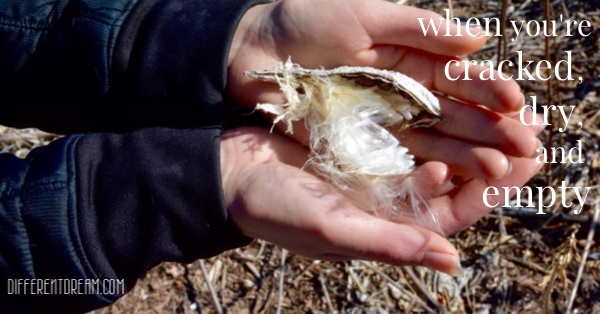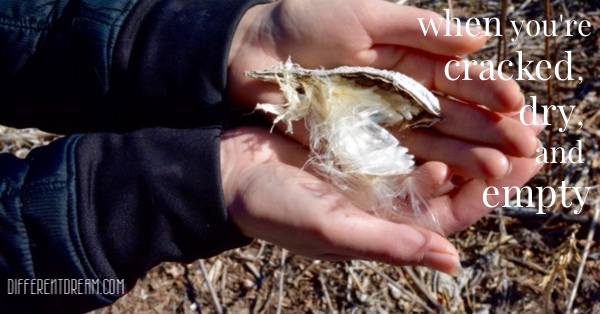 Caretakers can take care of themselves. Caretakers must take care of themselves. Guest blogger Heather Johnson learned this truth through hard, personal experience. In this post, she explains why caring for ourselves is so important and offers a few simple ideas. Come back in a few weeks when she'll share more ideas in Part 2 of Caretakers Can Take Care.
While walking along our farm trails last fall, Anna picked a milkweed pod from its stem, cradling it in her delicate hands. The covering was dried and cracked. Its innards, silky white wings with dark seeds attached, took flight on the breeze as Anna opened the dead tombs. Hundreds of seeds, all with the possibility of new life. If only they could find good soil and take root. If only. I thought about special needs parenting as Anna held those pods. It's easy to become dry by pouring our lives out for our kids. It's easy to become empty shells, shuffling through life with no energy. We suffer from exhaustion and, sometimes, we suffer from downright frustration or depression. We have little left over for our spouses, let alone ourselves. Problem is, when we don't take care of ourselves, we're not much good at taking care of our loved ones. Problem is, when all we do is
do
, we end up dry, cracked, and empty. Ask me how I know! My husband and I adopted our three kids from Russia when Anna was nearly six, Zachary was four, and Nicholas was nineteen months. By the time we were two years into parenting, all three had received diagnoses thought to fall under the umbrella of FASD (Fetal Alcohol Spectrum Disorder). For the next twenty-one years (to date), our family entered a whirlwind of regular appointments with therapists, tutors, special educators, doctors, and adult caregivers as we have helped our kids cope with ADHD, Autism Spectrum Disorder, Pervasive Developmental Disorder, Nonverbal Learning Disability, hearing impairment, visual impairment, and other physical issues requiring several surgeries and subsequent therapies. And that's not all. Emotional/behavioral challenges reached the level of clinical significance where various interventions were imperative, the most severe occurring with our daughter who suffered a psychotic break from reality at age 22 while in a manic phase and had to be hospitalized for 12 days in a locked psychiatric hospital unit until stable on medication. I need to take a breath right now. Maybe you do too? We love our kids dearly. I'm sure you love yours kids as well. I love my husband and he loves me. I hope the same is true for you. But if you're like us, the stress of constant special needs can seem unbearable for you and, maybe, for your marriage. Surely, our special needs kids, no matter their age, bear burdens not of their own doing. And their burdens become our burdens as parents. I'm not sure what you're dealing with in your life right now, but I have learned ways caretakers can take care of themselves. I'm not prescribing or promising a magic wand. But I would like to share some things I've/we've done that's lowered our stress, created closeness with all, fostered joy, and added laughter to our daily lives over our 21 years of parenting and 25 years of marriage.
LIVE THE SERENITY PRAYER
I love and LIVE this prayer. I meditate on it, chew it, swallow it, digest it, make it part of my every-day life. Most of us know the short version. But many of us don't know the long version. I have found so much peace and strength by reading this daily, carrying it with me on an index card, pulling it out of my purse and reading it as often as needed. Do I live this perfectly? Absolutely not. But as a former pianist whose mom always said, "Practice makes perfect!", I keep at it every day. Believe me, it's not as hard as practicing scales! Give it a go and see what happens with regular practice.
God grant me the serenity to accept the things I cannot change; Courage to change the things I can; And the wisdom to know the difference. Living one day at a time, enjoying one moment at a time. Accepting hardship as a pathway to peace, Taking, as he did, this sinful world as it is, Not as I would like it. Trusting that he will make all things right. If I surrender to his will. That I may be reasonably happy in this world And supremely happy in the next. ~Reinhold Niebuhr, noted German theologian
TAKE TIME FOR YOURSELF
A happy mom makes a happy family.
I've heard this again and again. I have no idea who said this first. Probably a mom. Haha! But seriously, it's no joke. It's truth. I'm not talking about
self-indulgence
at the
expense
of our loved ones. I'm talking about
self-care
for the
benefit
of our loved ones, ways we caretakers can take care of ourselves so we are better caretakers. There's a huge difference! I take "me time" that does not involve my kids or my husband. Here's a smattering of things that have kept me sane
(and loving of my kids and husband better)
over the years, not all at the same time though (especially the learning things!): Prayer. Always prayer. Daily Bible reading. Nature walks. Reading books. Bubble baths. Phone calls with friends. Field trips with friends. Daily exercise. Healthy eating. Photographing. Writing. Learning–always learning: Yoga, Pilates, horseback riding, creative non-fiction writing, multi-ethnic cuisine cooking, perennial gardening, watercolor painting. I've also been energized and filled by giving to others besides my kids and my husband—working with an international ministry to empower at-risk women, working with kids at an inner-city ministry in Milwaukee, and on our farm (a summer nature camp), a church ministry where I teach women's bible studies, providing mentoring). All these things I've done/I do require energy. And I'll be absolutely honest with you . . . Sometimes, in bouts of depression (I struggle with a biochemical imbalance needing medication), I haven't had any energy for anyone. I've learned it's okay to take time to heal by resting, by saying "no," by letting others give to me so I can get back on my feet and serve as I love to serve. Most importantly, I've learned it's okay to set aside relationships with people who continually wound (probably unconsciously) or who can't give reciprocally with prayers of blessing and a heart of forgiveness. I hope these words and ideas will nurture your own creativity. Remember, even if you're feeling dry, cracked, even dead on the inside—there's the potential for abundant, new life in you. Take a peek inside yourself. Let yourself
thrive
, not just survive. And remember, where there's a will, there's a way. Don't know who said that first either! But it's true.
Join me for Part 2 to hear the more ways we caretakers can take care of ourselves. I include some belly-laughing ideas I think you'll like!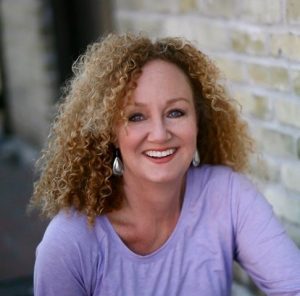 Heather MacLaren Johnson lives near Wisconsin's Lake Michigan shore with her husband of 25 years, 3 horses, 2 dogs, 2 barn cats, and a fish. She earned her B.S. in Education and her doctorate in Clinical Psychology before adopting 3 amazing kids from Russia, all now in their 20's, all with life-long challenges stemming from prenatal exposure to alcohol (FASD). She is completing a memoir about her mother/daughter journey through hidden disabilities and mental illness. Heather's essay about learning to ride horses at age 44 is included in Leslie Leyland Field's The Wonder Years: 40 Women Over 40 on Aging, Faith, Beauty, and Strength(Kregel Publications). She has published devotional pieces for The Seed Company (Wycliffe Bible Translators Affiliate) You can learn more about Heather at her websitewww.truelifewithgod.com.
Do you like what you see at DifferentDream.com? You can receive more great content by subscribing to Different Dream newsletter and signing up for the daily RSS feed delivered to your email inbox. You can sign up for the first in the pop up box and the second at the bottom of this page.