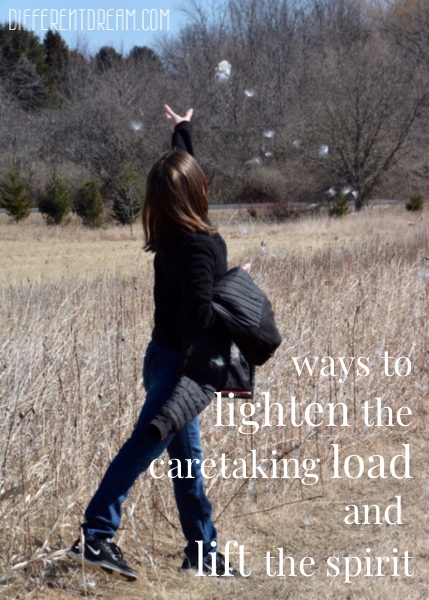 Caretakers can take care of themselves, and they must take care of themselves. Guest blogger Heather Johnson explained why self-care is important for caretakers and provided easy-to-implement self-care strategies in 4 Ways Caretakers Can Take Care, Part 1. In this post, she offers ideas to strengthen marriages and tickle funny bones.
Hi again! In Part 1, I talked about using The Serenity Prayer to keep a proper perspective. I also talked about the need for self-care and gave some examples of what has helped me over the years. Today, I'm sharing two more ways we can take care of ourselves.
TAKE TIME WITH YOUR SPOUSE
Yeah, I know. Sometimes he/she is the last one on our list. Like that dry and cracked milkweed pod, our marriages can languish when we're spending so much time and energy attending to our kids, especially if they have special needs. But truth is, when we spend quality time with our spouse, we're really taking care of ourselves and our kids.
Kids are happiest when they see their parents happiest. Tending to our marriage relationship doesn't have to be a job, a chore, a duty. We can make time together fun and exclusive (No kids involved—that's another whole guest post with ideas coming in June.) Some of my husband's and my favorite activities together over the years have been (and still are) these:
Take a walk. Hold hands. Talk. Or don't.

 

Have a picnic. In summer, spread a quilt and eat on the lawn. In winter, spread a quilt and eat on the bedroom floor. Steamed asparagus with parmesan cheese, turkey roll- ups in tortillas dipped in Dijon mustard. What's your favorite easy picnic food?
Take a two-hour virtual trip.

 

We live in Wisconsin, what I call a "bipolar" weather state. There's practically nothing dependable about Wisconsin weather except that it's dependably undependable. As for me, the long winters fray my nerves which begins to gnaw at my relationships. So, I reckon that if we can't take a real trip to Florida (or anywhere else with warmth and sun, there's always the virtual trip!

 

No kids allowed. Children are cared for by someone reliable, in-home or out-of-home. Items needed for a two-hour get-away:

Bedroom with lock on door. A lock on bedroom door is an essential component of every successful marriage, in my humble opinion.
Two beach towels. Invest in really nice, fluffy ones.
Two beach chairs. Comfy as possible.
Large tray of soft sand. Slip it under bed for future use.
Space heater. Cranked to at least 85° and placed right in front of chairs & sand.
Ocean waves and seagulls music playing.
Your favorite swimsuit. Yes, you will both wear them, sexy or not.
Sunglasses. His and hers.
Coppertone sunscreen. Or whatever sunscreen scent you love. I've been a Coppertone girl for 50 years. And I'm nearly 60. No kidding. I'm not being paid for this Coppertone push.
A favorite drink. Wine? Beer? A fruity Pina Colada with or without the alcohol?

 

This "virgin" potion is one of my favorites.
A bathtub filled with tepid water. For when you get so hot, from the space heater, of course—or from the hormones—or from the lack of hormones that induce those hot flashes aggravated by that 85-degree space heater—or whatever else might be elevating your body thermostat beyond a desirable state that you suddenly need to cool off or you think you just might die. This step is optional. Maybe.

 
Got everything? Got everything on? Sit down. Sigh. No kids or kid talk allowed!**
*You might need to get volunteer or paid, in-home or out-of-home childcare for a couple hours for your ideas. Think possibilities!
**This idea works great with kids, but right now the point is not to focus on kids. I did this beach thing with my kids when they were young and they STILL remember and talk about their "weirdo" mom who took them on virtual beach vacations. Don't forget the paper umbrellas for the drinks!
TAKE TIME TO LAUGH. 
Find and do things that make you laugh by yourself.
Find and do things that make you and your spouse laugh together.
Find and do things that make you, your spouse, and your kids laugh together.
Laughter is medicinal. Laughter lowers stress. Laugher is good for our souls, our minds, our bodies, our relationships.
Some of our favorites laughter-producing things as family are these:
Play Charoodles. Seriously. We laugh at ourselves and each other so much that we can't wait until the next time we play.
Watch funny movies. Our favorite repeat films are Red and Clue. We have dialog memorized and laugh when reciting to each other, even when not watching.
Watch funny video clips. Anything by Tim Hawkins cracks us up.

 

Remember and talk about funny family moments (like the time our youngest—3 at the time—screamed the whole way through an Everglades airboat ride where we all wore earphones and no one could hear a thing—because he thought we might see alligators. Yeah, I'm sure it was traumatic at the time for him. But now, he loves when we share this story
Certainly, life can be very hard and scary. I know. There are nasty alligators in all our ponds. But certainly, we caretakers can take care to do things that might lighten our load, lift our spirits, and keep us all from being eaten alive by distress. I hope what I've shared will cause you to think of things you can do to help yourself, your marriage, and your family from becoming dry, crusty or broken. But even then, remember this—
There's always new life inside. Take the time to sneak a peek and let the breeze of your own creativity allow some fresh seeds to take root and grow.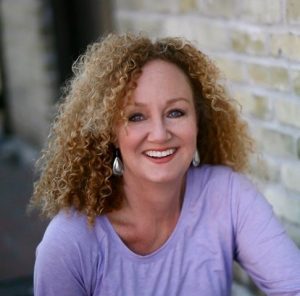 Heather MacLaren Johnson lives near Wisconsin's Lake Michigan shore with her husband of 25 years, 3 horses, 2 dogs, 2 barn cats, and a fish. She earned her B.S. in Education and her doctorate in Clinical Psychology before adopting 3 amazing kids from Russia, all now in their 20's, all with life-long challenges stemming from prenatal exposure to alcohol (FASD). She is completing a memoir about her mother/daughter journey through hidden disabilities and mental illness. Heather's essay about learning to ride horses at age 44 is included in Leslie Leyland Field's The Wonder Years: 40 Women Over 40 on Aging, Faith, Beauty, and Strength(Kregel Publications). She has published devotional pieces for The Seed Company (Wycliffe Bible Translators Affiliate) You can learn more about Heather at her websitewww.truelifewithgod.com.
Do you like what you see at DifferentDream.com? You can receive more great content by subscribing to Different Dream newsletter and signing up for the daily RSS feed delivered to your email inbox. You can sign up for the first in the pop up box and the second at the bottom of this page.