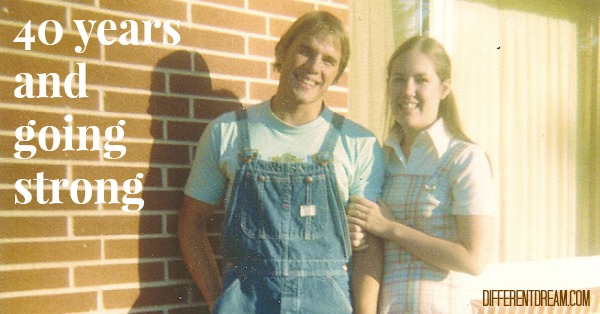 My husband and I were married on a hot and muggy July day in 1977. His tux size remains the same, and I still fit in my wedding dress. We both have all our teeth. So sometimes we look at each other across the supper table, scratch our heads, and ask, "40 years? Have we really been married 40 years" Then I notice his thinning hair, he notices my collection of wrinkles, and we do the math in our heads.
2017-1977=40.
Yep, we've been married for 40 years, not all of them easy. The early years were hard as our diverse family cultures merged, and our different communication methods often clashed.
He was a twin, who talked in a shorthand composed of mostly gestures and expressions.
I loved to talk and play word games with my family and friends.
He wanted constant contact with a constant companion.
I wanted time alone to think and debrief after we were together for a while.
He could play his guitar or listen to music for hours.
I could curl up in a quiet corner and read for hours.
But we both loved Jesus, we loved each other, and we loved children. So when we learned we were expecting, we eagerly embraced the challenges and joys of parenting. We had no idea that the arrival of our baby boy, born with a condition that required immediate life-saving surgery and years of medical intervention and therapy, would usher in the toughest 4 years of our marriage.
To read the rest of this post, click here to visit the Irresistible Church website.
Do you like what you see at DifferentDream.com? You can receive more great content by subscribing to the quarterly Different Dream newsletter and signing up for the daily RSS feed delivered to your email inbox. You can sign up for the first in the pop up box and the second at the bottom of this page.
Save
Save
Save
Save