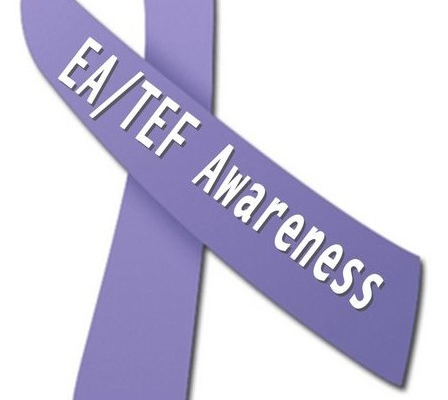 January.
A month for blustery weather, New Year's resolutions (watch for our guest blogger resolution series beginning on Monday, January 6), and EA/TEF Awareness Month. Different Dream is all about raising awareness about EA/TEF because my son was born with the anomaly way back in 1982. His repair was successful, and he's now living his own life.
Why to Raise Awareness of EA/TEF
But EA/TEF occurs in every 3,000–5,000 births, and the families of those babies need informed support groups surrounding them. They also need the support of other families who've experienced what they're going through, places to go to ask questions and read about what's being done for kids with EA/TEF. Those kinds  of groups weren't available when our son was born, and I remember sitting in the hospital, overwhelmed by aloneness and ignorance.
Where to Find EA/TEF Support
Thanks to the internet, parents no longer have to experience that kind of loneliness and ignorance. Support groups abound on websites and Facebook. This list is a good place to start learning and connecting.
EA/TEF Awareness Month Posts from the Past
Now, to make it easier for you to find posts from previous EA/TEF Awarness Month, here's a second list of readers' faves:
You can find more posts about EA/TEF Awareness Month by typing that phrase into the search box.
Now It's Your Turn to Raise EA/TEF Awareness
The best way to raise EA/TEF Awareness is to tell our stories. So if you're a survivor of EA/TEF or the parent of a child with the condition, tell your story in the comment box. We'd all love to hear them and celebrate each life.
Do you like what you see at DifferentDream.com? You can receive more great content by subscribing to the quarterly Different Dream newsletter and signing up for the daily RSS feed delivered to your email inbox. You can sign up for the first in the pop up box and the second at the bottom of this page.