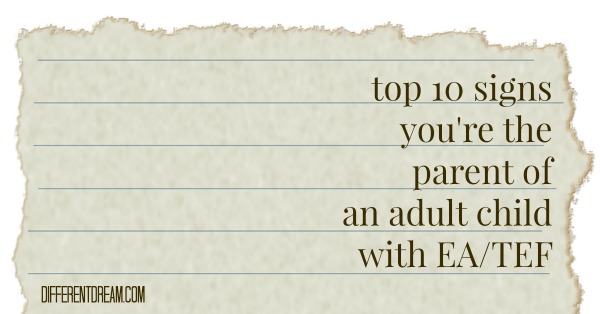 EA/TEF Awareness Month 2013 ends today. Thirty years ago, our baby boy, born with EA/TEF was about eight months old, slowly gaining ground in his fight to stay alive. In yesterday's post Christine Lester highlighted ten characteristics of parents caring for young kids with EA/TEF, and they accurately described life with our son way back when. Today, I'd like to encourage parents of young EA/TEF children by sharing my own top ten list of life as an EA/TEF parent thirty years later.
Top Ten Signs You're the Parent of an Adult with EA/TEF
The tiny blood pressure cuff your newborn wore in NICU hangs beside his baby picture.
You can recite your baby's surgery timeline without hesitation.
You don't like to visit hospitals much.
When your first grandchild is born, you are surprised by grief when you realize how much bonding time you and your newborn missed.
You can't break the habit of leaving good tips at restaurants. It's your way of apologizing for the napkins full of vomit your child left behind way back when.
You think cribs that aren't elevated at the head just don't look right.
You panic when you hear your adult child has a cold, influenza, or any other common ailment.
You feel guilty because you panic when you hear your child has a cold, influenza, or any other common ailment, and chide yourself, saying, "Get a grip! He's an adult! Get over it!"
You feel much better when your spouse says he's panicked because your adult child has a cold, influenza, or any other common ailment.
You believe in miracles because you raised one.
What Would You Add to the List?
Until two years ago, I had never met the parent of a child born with EA/TEF. I have yet to meet the parent of an adult born with the anomaly. If you're part of that small but growing group, please introduce yourself in the comment box. Then, tell what you'd add to the list. Thanks!
Do you like what you see at DifferentDream.com? You can receive more great content by subscribing to the quarterly Different Dream newsletter and signing up for the daily RSS feed delivered to your email inbox. You can sign up for the first in the pop up box and the second at the bottom of this page.
Save