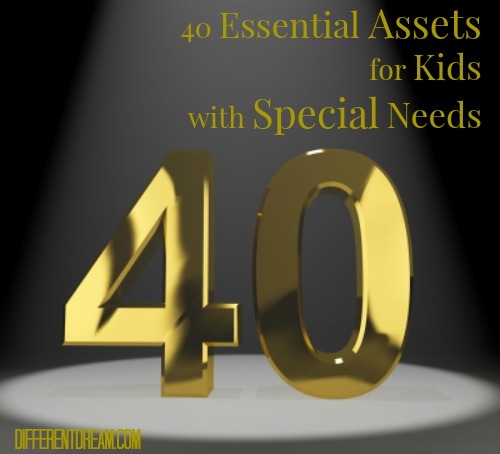 The 40 developmental assets concept came to my attention at a Foster and Adoptive Parents Conference in January. The assets are results of research done by the Search Institute. It wanted to  determine why some children become well-adapted, productive and happy adults while others don't. Their research led to the 40 Assets, a list of supports that empower children to succeed.
40 Developmental Assets for Who?
The website features asset lists for children what supports children need around them to succeed. Their research led to different lists in the following categories:
Early childhood (age 3–5)
Grades K–3 (age 5–9)
Middle childhood (age 8–12)
Adolescent (12–18)
The site also features a list of assets families need to build a strong framework for success. It's fascinating stuff.
How about Kids with Special Needs?
The site doesn't have a list devoted to kids with special needs, but the assets are pertinent to our kids and our families. What makes me say that? Well, take a look at the categories used in each 40 assets list. An asset from each category is included, followed by an example of practical application.
External Assets
Support–Positive Family Communication | Parents and/or primary caregivers express themselves positively and respectfully, engaging young children in conversations that invite their input. (age 3–5)
Empowerment–Children as Resources | Child contributes to family decisions and has opportunities to participate in positive community events. (age 5–9)
Boundaries and Expectations–Adult Role Models | Parent(s) and other adults in the child's family, as well as nonfamily adults, model positive, responsible behavior. (ages 8–12)
Constructive Use of Time–Time at Home | Young person is out with friends "with nothing special to do" two or fewer nights per week. (ages 12–18)
Internal Assets
Commitment to Learning–Home-program Connection | The child experiences security, consistency, and connections between home and out-of-home care programs and learning activities. (3–5)
Positive Values–Integrity | Parent(s) help child develop her or his own sense of right and wrong behavior. (ages 5–9)
Social Competencies–Resistance Skills | Child can stay away from people who are likely to get her or him in trouble and is able to say no to doing wrong or dangerous things. (ages 8–12)
Positive Identity–Sense of Purpose | Young person reports that "my life has a purpose." (age 12–18)
And the list for the family assets framework uses these categories. Again, after each category, you'll find a framework item, followed by an example of practical application
Nurturing Relationships: Affection—Family members regularly show warmth to each other.
Establishing Routines: Dependability—Family members know what to expect from one another day-to-day.
Maintaining Expectations: Fair rules—Family rules and consequences are reasonable.
Adapting to Challenges: Problem solving—Family members work together to solve problems and deal with challenges.
Connecting to Community: Supportive resources—Family members have people and places in the community they can turn to for help.
Do you see the correlation to what can help you successfully raise your child with special needs? And to your child with special needs maximizing his or her full potential? Pretty amazing, isn't it?
How to Put the 40 Developmental Assets into Action
The lists give you the opportunity to see which assets are already in place for your child and family and which ones aren't. The website also offers oodles of free downloadables and easy-to-find and easy-to-implement practical ideas about how to establish the assets in your family and community. They also consider a faith system one of the 40 assets. How cool is that?
To learn more about the 40 developmental assets, check out these links:
40 Developmental Assets for Early Childhood40 Developmental Assets for Children Grades K–3
40 Developmental Assets for Middle Childhood
40 Developmental Assets for Adolescents
The Family Assets Framework
What Do You Think?
After you've had a look, come back and leave a comment. How could you adapt these assets for a special needs family? What assets are in place already at your house? Which ones are you going to work on? Your thoughts are most welcome here!
Do you like what you see at DifferentDream.com? You can receive more great content by subscribing to the quarterly Different Dream newsletter and signing up for the daily RSS feed delivered to your email inbox. You can sign up for the first in the pop up box and the second at the bottom of this page.
photo credit: www.freedigitalphotos.net
Save