PTSD in Parents: 6 Ways to Deal with Adrenal Fatigue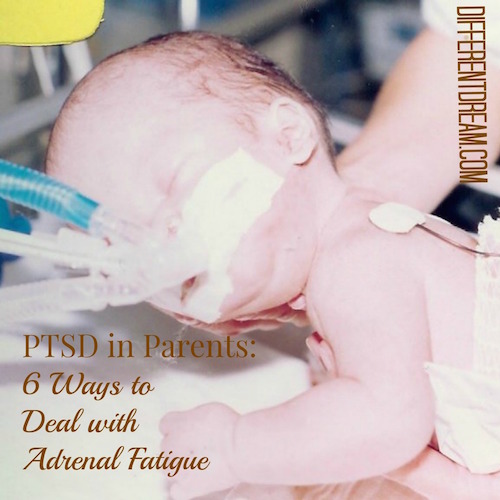 Welcome to the third post in Different Dream series about PTSD in parents of kids with special needs. Today, guest blogger and mom Rachel Olstad is here to tell her story of coming to terms with her PTSD that developed after the birth of 2 of her children.
PTSD in Parents: 6 Ways to Deal with Adrenal Fatigue
I was 25 years old when my first child was conceived.
Trips to the teaching hospital, prenatal ultrasounds galore, packs of white coats.
Bad news.
Gloomy news.
Dire news. Not viable. Terminate. Abort.
Smart thing to do.
If he lives, it will be in a vegetative state.
We got to squeeze his little hand before they rushed a very blue baby off to a 12-hour surgery.
3 weeks and 3 surgeries later, we took home a medically fragile baby boy.
In the hospital more than home his first several years.
Around 30 some surgeries.
Oxygen. Heart monitor. IVs. 911 on speed dial.
First name basis with first responders.
Turning blue.
Vomiting. Aspirations. Pneumonia.
Ambulances and a medic flight.
6 hours of sleep a day in 15-minute snippets.
He's coding.
Adrenaline rush, adrenaline rush, adrenaline rush.
I was young. I was strong. I was a Christian. I handled it all with aplomb. After years of living in crises, our son stabilized–mostly–and we learned to navigate our new normal of being parents of a child with disabilities. We had another son, then a daughter.
Baby Girl is in NICU.
Hibiclens. Nail scrubs. Gowning up. Pumping breast milk.
The smells.
The sounds.
What was happening to me?
My mental state was so concerning to the nurses that they asked if I wanted psychiatric help.
Fast forward a few years. Our son's kidney shuts down. He goes septic and almost dies. Twice. What's happening to me? I can't even walk into the hospital anymore without throwing up. I can't quit crying. I'm obsessing over healthcare routines. Irrational thoughts won't stop going through my head, and my gastrointestinal system responds in immediate ways.
Insomnia. Anxiety.
I cry out to God for help constantly.
I dig into my Bible.
Why won't God send relief?
Mornings I can function well enough to tend to my kids' needs. I set dinner ingredients on the counter, knowing I won't be able to think clearly enough by evening to put a meal together. My sainted husband regularly covers for me. I sit on the couch solving endless crosswords to keep my mind occupied on something else than those horrendous, irrational thoughts.
I know I need help.
I visit a practitioner specializing in stress and hormones.
With advice stemming from a naturopathic philosophy, I make progress back to the land of the living.
Am I cured?
No.
My daughter has a case of unrepairable supraventricular tachycardia that has resulted in ambulance trips and unsuccessful ablations. My oldest son still is disabled. I live on the edge with an undercurrent of constant anxiety.
Adrenaline rushes occur every time someone sneezes.
But I'm much better – sometimes thriving, sometimes struggling. How do I keep going day after day? Here are my top tips for moms dealing with PTSD or adrenal fatigue:
Psalms for the Anxious: In the middle of one anxious night, I googled and found this list. I have one Bible that's yellow-highlighted for those anxiety-filled moments, believing in God's sovereignty and that ultimately, I am not responsible for how many days my kids will spend on earth.
Quit the Caffeine Fix: My pot of coffee each day was too much. I've learned to be kinder to my body, cleaning up my diet, coffee being my particular poison. An occasional massage works wonders instead.
Seek Professional Help: For me, it was seeking naturopathic and nutritional guidance. For others, it may be necessary to see a psychiatrist. If you have thoughts about harming yourself or your children, tell someone right now. Get immediate help.
Find a Support Group: I belong to a special needs moms group. They get me. When I'm particularly struggling, I shoot a message, knowing they will lift me up to our heavenly Father. The peace I feel afterwards is amazing.
Share the Responsibility: During emergencies my hubby does the ambulance rides if he's available. I still love and care about my kids; I'm just relinquishing control-freak tendencies and accepting help for my own well-being.
Turn Away from Negativity: If a TV show triggers anxiety, turn it off. Don't finish that book if it's making your stomach knot. Instead, watch Tim Hawkins on YouTube or tell your kids a joke. Force yourself to leave them and go see a play. I am always surprised at how much I enjoy myself once I'm removed from the immediacy of my situation.
While I hate the way PTSD makes me feel, believe it or not, I am grateful for it. Once a pull-yourself-up-by-the-bootstraps kind of girl, I now know what it is to fully rely on God in my weakness, and I can now comfort those who journey behind me.

Though you have made me see troubles, many and bitter, you will restore my life again; from the depths of the earth you will again bring me up. Psalm 71:20 (NIV)
What About You?
Do you see elements of your story in Rachel's? Do you wonder if you, too, could have PTSD? Leave your thoughts or questions in the comment box.
Do you like what you see at DifferentDream.com? You can receive more great content by subscribing to the quarterly Different Dream newsletter and signing up for the daily RSS feed delivered to your email inbox. You can sign up for the first in the pop up box and the second at the bottom of this page.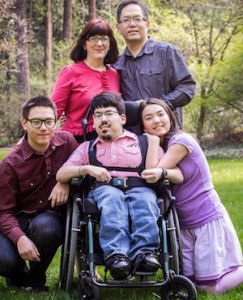 Rachel Olstad began her journey into the world of disabilities in 1990 when her oldest child was born with spina bifida and subsequently diagnosed with autism. She volunteers with Joni and Friends Southern Oregon, helping to meet the physical, emotional and spiritual needs of individuals and families affected by disability and encouraging churches to include all people. She was a contributing writer for both Special Needs Smart Pages and Nursery Smart Pages (Gospel Light), has been published in the Journal for Religion, Disabilities & Health, and was an assistant editor on Beyond Suffering: A Christian View on Disability Ministry. (Christian Institute on Disability)
Subscribe for Updates from Jolene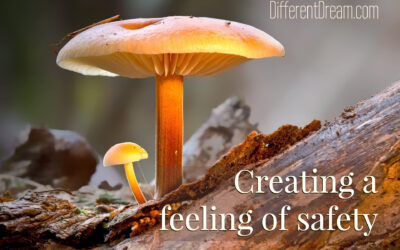 Whether your loved one suffers from trauma or dementia, the best question a caregiver can ask is, "How can I make you feel safe?"
read more