Making Difficult Care Decisions: 6 Strategies to Clarify Choices
Making difficult care decisions is an uncomfortable facet of special needs parenting. Rather than shy away from the conversation, guest blogger Kristin Faith Evans offers 6 strategies she and her husband use when making difficult care decisions on behalf of their children.
Caring for a child or loved one with disabilities or medical complications often involves making difficult decisions.  When many factors need to be considered, the process can create stress and worry. Over the last 15 years of caring for my two complex children, I've found these 6 steps helpful in weighing the options.
Make a Benefits versus Risks List
My husband and I are currently faced with the difficult decision about our daughter's educational plans for the fall. Due to her medical fragility and the Covid pandemic, Beth attended school virtually for the past 2 years. She's enjoyed better stability and health than any other period in her life. But she's seen a couple of children on the screen only briefly each day. Now that she's received her Covid booster, her doctor has authorized her to return in person. Here's an example of our process as we consider serious health risk factors:
Benefits:
Social interaction with other children and adults
Diverse learning opportunities
New experiences
Fun
Opportunity to share her joy, care, and humor
Risks:
Potential for serious illnesses and hospitalizations
Increased risk for death
Possibility of missing over 50% of school days
May limit our ability to work and make income
We're attempting to rank what will create the highest quality of life for our daughter. She's unable to make these decisions for herself.
Some questions to consider as a caregiver:
What might my child/loved one most desire if they had the ability to give their input?
How will this decision or treatment benefit them?
What are all the potential risks and side effects of each option?
What long-term effects will this choice have on them?
What's feasible for me as their caregiver?
Consult with Several Professionals
It can prove challenging to find the right medical, psychiatric, home care, or educational professionals with whom we feel comfortable. Sometimes it's beneficial to get a second opinion if possible.
For example, Beth was referred to an orthopedic surgeon after she broke her ankle. The surgeon recommended a major hip and leg surgery. Beth would need months of physical therapy to be able to walk again. We consulted with her PCP who recommended getting a second opinion. We drove nine hours to meet with an expert in her disorder. This surgeon strongly recommended against the surgery because the procedure likely wouldn't help and might even worsen Beth's condition.
Some factors to consider:
Your level of comfort with the recommendation
Insurance's willingness to cover a second opinion
The PCP's recommendations
It may be necessary to go to a different healthcare system or hospital
Talk with Other Caregivers
Asking around can help in several ways. Other caregivers may have experienced a similar situation, treatment decision, transition period, or surgery with their loved one.
They can offer:
Ideas for other options
What to expect
Support
Recommendations for providers
Connections with other caregivers
Research
Depending on what care decisions we're facing, researching the best medical intervention, care facilities, provider ratings, school systems, etc. may give us direction. Some professional sites:
Pray
When a situation feels hopeless or out of our control, praying can help in several ways. We can ask for direction, wisdom for the doctors, a sense of peace, and divine intervention.
This breath prayer has helped me numerous times:
Exhale: "I release my worries to you."
Inhale: "I receive your peace."
Exhale: "I give you my anxieties."
Inhale: "I accept your help."
When we still our minds and practice deep breathing in God's presence, our anxiety and emotional levels can decrease. We become more open to receiving direction and are able to think more clearly.
Listen to Your Gut
Finally, when it feels like there is no good option, it's time to give merit to how you feel.
Consider your first impression of the provider, facility, or school:
Does anything make you feel uncomfortable?
Are you feeling pressured?
We know our loved ones' histories and needs better than anyone else. If something doesn't feel right, it's important we don't dismiss it. Unless the situation is urgent, we can take time to make the best decision.
What would you add to the list for parents making difficult care decisions? Leave your ideas in the comment box.
Do you like what you see at DifferentDream.com? You can receive more great content by subscribing to the monthly Different Dream newsletter and signing up for the daily RSS feed delivered to your email.
Kristin lives with her husband, Todd, and their two children in the Nashville, TN area. As an author and mental health therapist, her greatest passion is walking with others on their journey to deeper emotional, psychological, and spiritual wholeness. As both her children have rare genetic disorders, Kristin especially loves supporting other parents of children with special needs. She hopes that you may find encouragement and support through her two websites and blogs, www.KristinFaithEvans.com and www.SpecialNeedsMomsBlog.com.
Subscribe for Updates from Jolene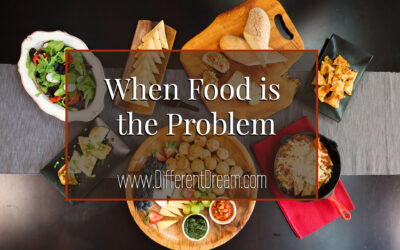 Guest blogger Kelly Simpson offers tips and encouragement for parents raising babies with EA/TEF or other feeding issues.
read more