Why Did God Make Me with Special Needs?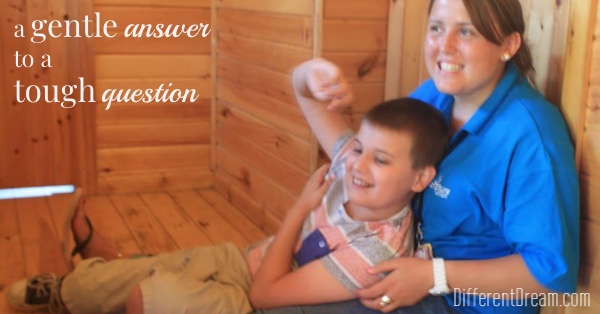 Why did God make me with special needs? When an 8-year-old boy asked his parents this question, they sought the advice of Mark Arnold, today's guest blogger. He turned his thoughts into this post and hopes you find it helpful.
Made in God's image?
Starting at the very beginning we see that God created people to be like him, in his image; "Then God said, "Let us make human beings so that they are like us…" So God created human beings in his own likeness. He created them to be like himself…" Genesis 1:26-27a (NIrV)
Later in the Psalms, we see that God creates each of us individually. You created the deepest parts of my being. You put me together inside my mother's body. Psalm 139:13 (NIrV) The passage also tell us that it is good. How you made me is amazing and wonderful. I praise you for that. What you have done is wonderful. I know that very well. Psalm 139:14 (NIrV)
So, we are all made in God's image, individually, perfectly, amazingly, and wonderfully.
Does that include children with special needs?
Yes. God doesn't make mistakes. He doesn't screw up and make second-rate people. Psalm 139: 13–14 applies to everyone. Because God makes each of us individually, there is wonderful diversity in the world. Even identical twins are ever so subtly different.
So why can life be hard for children with special needs?
Perhaps this is the 'question beneath "Why did God make me with special needs?" Maybe what he wanted to ask was this: If God made me this way, why is life sometimes hard for children like me? Is God cruel to have made me this way?
My answer is that God isn't cruel, but he doesn't promise us an easy life. He recognizes, as we should, that we live in a fallen, broken world. Bad stuff happens. Special needs children can find it hard to be understood and to understand themselves. They may be bullied, abused, locked away. None of this is from God. None of this is his will. But he doesn't stop these things either. To do so would make us puppets with no free will to choose to do good or to do evil.
However, God does promise that we will never struggle alone. He will always be with us. Be strong and brave. Don't be afraid… Don't be terrified… The Lord your God will go with you. He will never leave you. He'll never desert you. Deuteronomy 31:6 (NIrV)
God  also the best life for us that we can live on this earth, a life following him and making the right choices In John 10:10, Jesus says, "I have come so they may have life. I want them to have it in the fullest possible way." (NIrV)
What does "the fullest possible way" look like for a child with special needs?
Perhaps what brings together the experience of every child, whether they have special needs or not, is the love of God being lived out in their lives and the lives of those surrounding them. If children are loved and celebrated for who they are instead of them being forced to change into someone they are not. If they are included, welcomed, helped to belong. If every child is given the tools and encouragement needed to engage with and explore the world in their own way, then they can live life in "the fullest possible way."
Maybe the question to ask is not, "Why did God make me with special needs?"  but "What can we do to create an environment where everyone has life in all its fullness? What can we do to enable each unique individual, each hand-crafted, wonderfully made child of God to thrive, to enjoy life, and be all they can be?"
Do you like what you see at DifferentDream.com? You can receive more great content by subscribing to the monthly Different Dream newsletter and signing up for the daily RSS feed delivered to your email inbox. You can sign up for both at the bottom of this page.
Subscribe for Updates from Jolene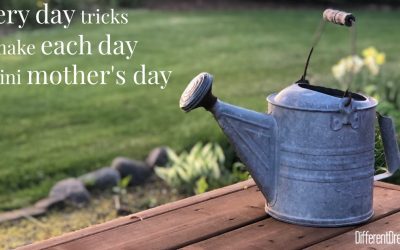 These every day practices go a long way toward making every day a great Mother's Day for moms of kids with special needs and disabilities.
read more