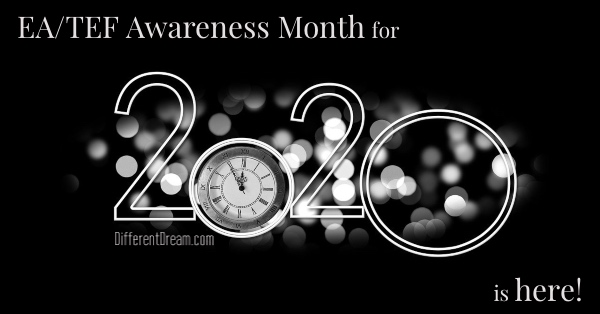 EA/TEF Awareness Month has been my favorite way to usher in January for a decade, and 2020 is no exception. As in past years, Different Dream will feature posts from parents raising children born with some variation of the condition. This year, for the first time, at least one post will be partially written by an adult born with EA/TEF.
If you're wondering why Different Dream devotes an entire month to raising awareness, 2 reasons come to mind right off the bat. First, our first child was born in 1982 with Type C, the most common kind of EA/TEF. So I have a vested interest in making the general public more aware of this birth anomaly. Second, the condition is quite rare, occurring once in every 3,000-5,000 newborns. 60% of babies born with EA/TEF have at least one other birth anomaly, though our son did not. That means there's a lot of awareness raising to be done, and since January is cold and snowy where I live, it's the perfect time to talk about EA/TEF on social media. Indoors. Where it's warm and cozy.
To whet your appetite for what's to come, check out this 2019 post, which is a compilation of favorite EA/TEF Awareness Month posts over the years. You'll be blown away by the cuteness of these EA/TEF kids and by the wisdom their parents share. EA/TEF Awareness Month for 2020 will feature 2 posts every week, so stop by often for more cuteness and wisdom.
If you're an EA/TEF survivor or are raising one, you're also invited to share your story in the comment section below. I would love to hear your story and so would Different Dream readers around the globe!
Do you like what you see at DifferentDream.com? You can receive more great content by subscribing to the monthly Different Dream newsletter and signing up for the daily RSS feed delivered to your email inbox. You can sign up at the bottom of this page.