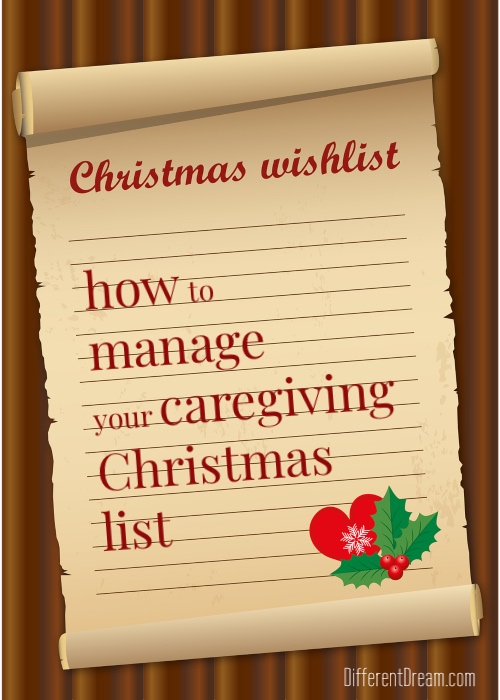 Checking your caregiving Christmas lists is one thing you can do to ease stress and manage expectations as the holiday draws closer. Guest blogger Kathy Guzzo suggests checking your caregiving Christmas lists in at least three ways.
December is filled with gathering with family, friends, and co-workers. It's shopping in crowds, caroling, homemade cookies, the smell of fresh pine Christmas trees, twinkling lights and jolly gift exchanges. But what if jolly isn't even close to how you're feeling and everything seems more like chores than events to enjoy? What if life has you feeling alone, misunderstood, frustrated, and sad? Sometimes the caregiving life is hard, and frustrating, and exhausting, but a few small steps can change your outlook. 
#1: Add Your Name to Your Gift List
Life with family members who need extra attention is chaotic and draining. In the midst of serving them, you need to make yourself a priority by putting yourself on your gift list. Be intentional, for as little as fifteen minutes a day, and do something for you. Write down five to ten things that have brought joy to you in the past or have been relaxing. Things like hot cocoa in front of a fire a drive to see the Christmas lights, or time out with a friend or loved one. The more demanding our lives are, the more crucial "me time" becomes. In the long run, it benefits your loved ones as well.
 #2: 

Reduce Your Other Lists

Christmas is the season for lists, and those lists can be overwhelming. Instead of trying to check everything off your lists (other than your "me time" list), reduce them. Get rid of what's not important and what's not practical this year. Reassure yourself that it's okay not to do everything. If you're really ready for fun, eliminate lists all together and do life as it happens, without the constraints lists put on us. 
#3: Examine Your Heart's Wish List
The hustle, bustle, and busyness of December isn't the reason for Christmas. The purpose of Christmas is simple–to celebrate the birthday of Jesus, the Messiah. He isn't going to judge us for not feeling jolly, for wanting to hibernate until the holidays are over. He isn't interested in how much we accomplish or how many activities we attend in December or anytime through out the year. He's concerned with what our hearts need to make moments matter, and He's going to love us through it.
What does He see on your heart's wish list?
Peace?
Joy?
Comfort?
Hope?
Strength?
Courage?
He's ready to give us the peace He promises, the joy of living, the hope of miracles, the strength He offers and much more. Things not found in the constant craziness magnified at Christmas, but available to everyone as gifts from the One whose birth we're celebrating. By accepting the gifts of the heart He offers, you'll be able to move from being not okay to better each day. 
Kathy Guzzo and her husband live in Northern Illinois and have 4 adult children. One of her daughters was diagnosed with lupus and Epstein Barr Replication as a young adult. Another began struggling with depression and OCD in her mid-twenties. She understands the need for her daughters to be able to make their own decisions regarding their health, but the nurturer in her sometimes has a hard time letting go. She desires to direct others to the peace and hope that God has abundantly available for them.
Do you like what you see at DifferentDream.com? You can receive more great content by subscribing to the monthly Different Dream newsletter and signing up for the daily RSS feed delivered to your email inbox. You can sign up at the bottom of this page.