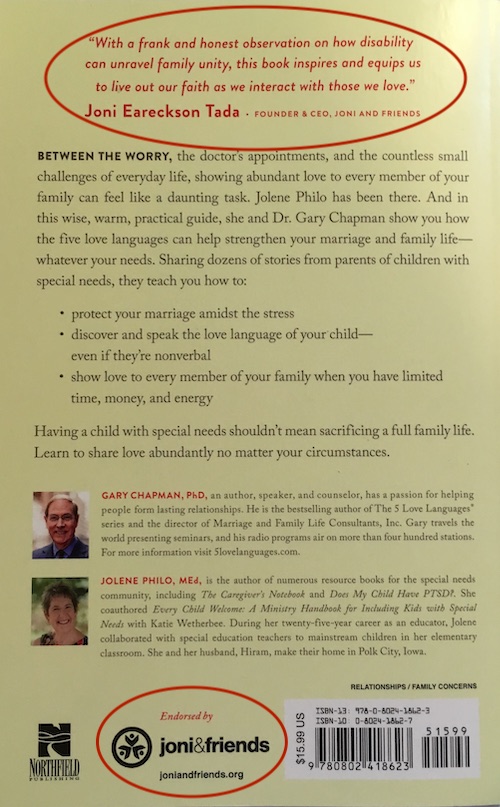 Unexpected blessings have gotten easier to identify the longer I've lived here on earth. As a kid, I dreaded the stares of onlookers when I pushed Dad's wheelchair down the sidewalk. As a new mom, the diagnosis of my baby's life-threatening diagnosis sucked the joy out of his first day of life. As a teacher, I sometimes resented the extra time required to make accommodations for students with learning needs in my classroom.
Now I see those challenges as the unexpected blessings God used to prepare me to encourage and equip caregiving families through writing. Even so, the benefits of hindsight and age did not prepare me for the unexpected blessings of co-authoring Sharing Love Abundantly in Special Needs Families: The 5 Love Languages® for Parents Raising Children with Disabilities with Dr. Gary Chapman.
One of the unexpected blessings of writing Sharing Love Abundantly was an endorsement by Joni Eareckson-Tada, featured prominently on the back cover of book. (I circled Joni's endorsement and the Joni & Friends logo in the picture above in case you missed it.)
Another blessing was being a guest on the Joni & Friends podcast hosted by Crystal Keating. By the end of the interview we felt like old friends, something that often happens when people in solved in disability ministry connect and talk. You can listen to the podcast on the Joni & Friends website, on iTunes, Google Play, or Spotify.
A third blessing has been your responses as members of the disability community who too often feel relegated to the fringes of society. When you discover that the creator of the love language concepts has acknowledged your unique needs as caregivers and offers you a place at the love language table, your delight is contagious. You make me grateful for the unexpected blessings of my life that prepared me to work with Dr. Chapman.
The final blessing of writing Sharing Love Abundantly is a word of encouragement I want to share with you. You may be in a hard place right now. The disability you or a loved one lives with may be leading to despair and hopelessness in your family. You may think this season will never end. You may feel like God has abandoned you. You may doubt the return of goodness and blessing in your life.
Please know this.
I have thought those thoughts.
I have felt those feelings.
On occasion I abandoned all hope.
But God didn't abandoned me.
He won't abandon you.
He has unexpected blessings in store for you.
I am sure of this because of who God is. He is the God who specializes in turning challenges and hardships into blessings and goodness.
He did it for Joseph in Egypt.
He did it for the Jews taken captive in Babylon.
He did it through the work of Jesus on the cross.
He's done it in my life.
He will do it in yours.
So wait patiently. Remain faithful. Cling to hope. Watch for unexpected blessings. Prepare to be amazed because He is the God who began a good work in you, and He will perfect it until the day of Christ Jesus. (Philippians 1:6)
Do you like what you see at DifferentDream.com? You can receive more great content by subscribing to the monthly Different Dream newsletter and signing up for the daily RSS feed delivered to your email inbox. You can sign up for the first in the pop up box and the second at the bottom of this page.
Jolene Philo is a published author, speaker, wife, and mother of a son with special needs.
Subscribe for Updates from Jolene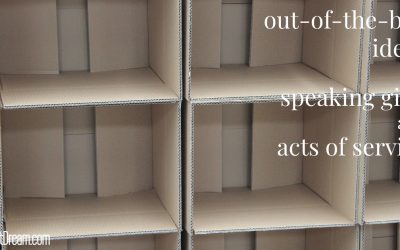 Ways to speak gifts and acts of service to kids with special needs and disabilities are plentiful. This post offers some creative ones!
read more