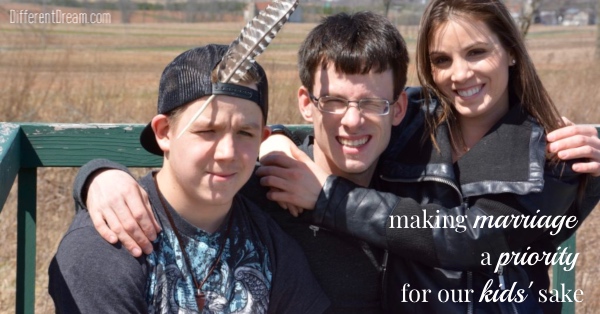 Making marriage a priority is crucial for parents raising kids with disabilities and special needs. But how in the world do stressed parents make time for one more thing? Guest blogger Heather Johnson shares ideas that worked for her and her spouse while they raised their three kids.
Three Tips for Making Marriage a Priority
Maybe your marriage is one where you feel only slight stress on occasion while loving and raising your children with special needs. If so, I'm thrilled for you! But that's not me.
My husband and I, nearing our 26th anniversary, are also nearing our 22nd anniversary of adopting three kids from Russia, all with multiple special needs stemming from fetal alcohol exposure–intellectual, emotional, behavioral, and physical–all invisible. Todd and I have lived in a state of nearly constant stress. If it isn't one thing, it's another. With all three. And the hardest for us has been the fact that hardly anyone understands what we've lived through because we all look, well, so normal.
Determined not only to make our marriage work and thrive after suffering through my parents' divorce and my own, Todd and I have been intentional about a few things I'd like to share with you, hoping these tips might help. Besides our #1 priority–prayer–here are three more things that have kept us glued.
#1: Make enjoyable alone time a priority.
Write separate lists of what's life-giving to each of you and then share. Find commonalities or at least interest in pursuing something you hadn't thought about.
For example, we love to hike anywhere, anytime. We schedule times. When our kids were young, we'd get someone to watch them for an hour or two. You can ask friends, family, church family or hire if you can afford. Exercise and fresh air are great stress relievers.
Use the time you schedule for only the two of you to give thanks for all the positives in your lives. There's always something.
Important: Rejuvenating time together requires no talking about kid problems/worries. That's for what comes next.
#2: Carve out time to share honest feelings.
There's a time to talk about the kids and a time not to talk about the kids. This is the time to share honest feelings, without judging or trying to fix. Allow expression of sadness, fear. Hold your spouse's hand or offer a hug/arm around the shoulder if needed. Show your love by listening. Just listening. And take turns. Try not to cut off your spouse's feeling expressions by jumping into your own. It's critically important for you both to feel heard and understood. Finally, ask your spouse how you could have listened and empathized better. Whatever you do, do not become defensive here. This is the time to learn how to love one another better by listening with your heart as well as your ears.
Todd and I carve out time daily to do this. It's not always easy but it has been a life saver. Maybe you don't need this special time as often as we do, but I promise you'll benefit by being intentional and consistent with whatever time you do set aside.
#3: Determine individual strengths and lean on each other.
I have a doctorate in clinical psychology and used to work as a therapist. Dealing empathically and practically with strong feelings is my specialty. I'm also a former elementary teacher. Both skill sets have been helpful during periods where we needed to educate at home, for securing proper testing/diagnoses, for home-education when needed, and for advocating with educational, medical, and rehab specialists.
Todd, on the other hand, has an MBA and a CPA. He's practically a genius with money matters. I've leaned on him to help with all the financial issues regarding our kids' short and long term needs.
Todd is also a strong thinker where I tend to be a strong feeler. In high stress situations, he's great at calming rough waves so we can all think clearly.
Write your own list of strengths–yours and your spouse's. Then, share with each other and learn to generally delegate so you're not constantly operating in an area of weakness when your spouse has natural ability.
These are only 3 of many tips about what has worked and still works for us. You need to decide what works for you. What do you and your spouse do alone for enjoyment? How do you and your spouse deal with real feelings? What are your and your spouse's different strengths? Please share in the comments to help us all.
Strong marriages make for happier kids, no matter what else we're dealing with. I pray yours and mine will keep getting better with time!
P.S. My husband is VERY camera shy so that's why I'm not including his photo but just our kids. To see us all together, with dogs, on our farm, visit my About page on my website, www.truelifewithgod.com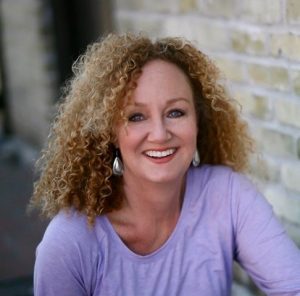 Heather MacLaren Johnson lives near Wisconsin's Lake Michigan shore with her husband of 25 years, 3 horses, 2 dogs, 2 barn cats, and a fish. She earned her B.S. in Education and her doctorate in Clinical Psychology before adopting 3 amazing kids from Russia, all now in their 20's, all with life-long challenges stemming from prenatal exposure to alcohol (FASD). She is completing a memoir about her mother/daughter journey through hidden disabilities and mental illness. Heather's essay about learning to ride horses at age 44 is included in Leslie Leyland Field's The Wonder Years: 40 Women Over 40 on Aging, Faith, Beauty, and Strength (Kregel Publications). She has published devotional pieces for The Seed Company (Wycliffe Bible Translators Affiliate) You can learn more about Heather at her website.
Do you like what you see at DifferentDream.com? You can receive more great content by subscribing to Different Dream newsletter and signing up for the daily RSS feed delivered to your email inbox. You can sign up for the first in the pop up box and the second at the bottom of this page.