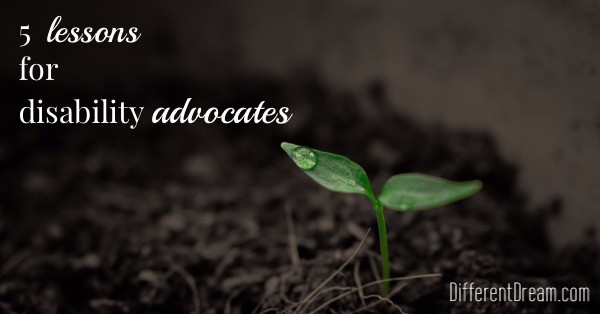 Disability advocates, myself included, are people of passion. Our passion springs from a deep desire to improve the lives of those we love and the well-being of the overall disability community. Recently I provided a Christian organization I admire with information about a project to benefit caregiving families. They listened courteously but declined to participate.
Outwardly, I accepted their decision with equal courtesy, but inwardly I was fuming.
I thought nasty thoughts.
I railed against the unfairness of it all.
I contemplated cutting ties with the organization.
That would show them.
Show them what? whispered a small and powerful voice within. Show them Jesus?
Oh. Hm. That.
Chagrined, I asked God to exchange my divisive spirit for His unity and my destructive anger for His constructive love. Throughout the day, He answered my prayer with these 5 lessons for an overzealous disability advocates like me.
Lesson 1: Not every believer shares your passion.
Not because they don't care about the disability community, but because God has given them a different passion. The organization I approached is passionate about many worthy ministries. Because they are committed to funding and serving those ministries well, they had to say no to my cause.
Lesson 2: Sometimes we push too hard or too soon.
As disability advocates, we have personal connections in the disability community. We love individual people and know their stories of struggle and victory and faithfulness. When we forget the time we were given to develop connections and be integrated into the disability community, we can push others too hard or too soon. Instead we must learn to wait for God's timeline rather than pushing our own.
Lesson 3: Thank God for what He will do.
One reason I pushed too hard and too soon was because I was afraid of not reaching a funding goal for the project I was championing. I was a little miffed, too, because I had prayed diligently for God to provide what was needed, and He hadn't answered.
That day, a new thought niggled its way to the front of my consciousness. Asking God to do what He knows needs to be done is redundant. Instead, thank Him for what He has always done and will always do – provide everything required to complete His good work.
Thanking God shifts the focus from fear to faith in God's sufficiency. The shift also keeps us from pushing too hard too soon.
Lesson 4: God shuts some doors permanently and others temporarily.
God sees what we can't. He shuts some doors because he knows what lies behind them will lead to bad ends. He shuts others because He wants us to open doors that can accomplish what is best in the disability world and the kingdom of God rather than what is merely good enough. He closes many doors temporarily and reopens them when the time and hearts are right. Who knows? God may eventually open doors in the organization mentioned before, when the seed of disability awareness planted in them grows into a passion for disability ministry.
Lesson 5: Our advocacy work is temporary, but God's work is forever.
The work of disability advocates is good, necessary, and life-changing. The all-consuming passion that drives disability advocates can skew our perspective. We forget that our work is temporary, while God's work is forever. He has believers waiting in the wings to continue the work He began in us.
When we are disappointed,
when progress is slow,
when doors shut,
when someone says no,
when we are tempted to blaze forth in anger,
God's promise in Philippians 1:6 is our eternal hope.
He who began a good work in you will bring it to completion at the day of Jesus Christ. (ESV)
Do you like what you see at DifferentDream.com? You can receive more great content by subscribing to the quarterly Different Dream newsletter and signing up for the daily RSS feed delivered to your email inbox. You can sign up for the first in the pop up box and the second at the bottom of this page.