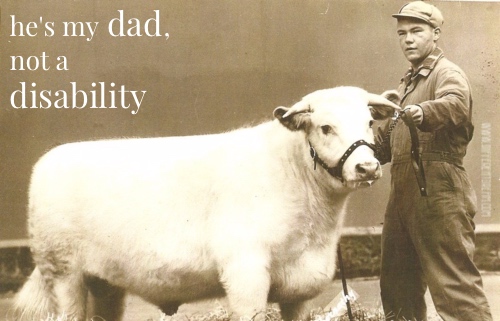 He's my dad, not a disability.
Those words have been rattling in my brain this March, the month in which my father died 22 years ago. My thoughts have moved beyond the deep, personal grief I felt in 1997. Now my wish is to describe Harlan Stratton who, along with Jesus, shaped my perception of who people truly are.
Harlan Stratton loved his wife. He picked out her birthday and Christmas gifts carefully. He looked through the newspaper ads and phoned the store to quiz the clerk for a long time about whatever gift he wanted to buy. Once he made his decision, he arranged to have the gift delivered when Mom was at work.
He loved his three children, and he understood how we thought and what made us happy. He gave us rabbit kisses. (There's no way to describe them. You had to be there.) When I was home sick from school, laying on the couch, we would watch Captain Kangaroo together. He laughed as hard as I did when the ping pong balls came pouring down. His presence made me feel safe.
Dad loved people. He was always happy to see them. Always.He enjoyed playing cards with his friends after they got off work. He didn't play to win. He played to talk, to tell stories, to make people laugh, and to laugh with them.
To read the rest of this post, visit the Irresistible Church Blog at Joni & Friends.
Do you like what you see at DifferentDream.com? You can receive more great content by subscribing to the quarterly Different Dream newsletter and signing up for the daily RSS feed delivered to your email inbox. You can sign up for the first in the pop up box and the second at the bottom of this page.