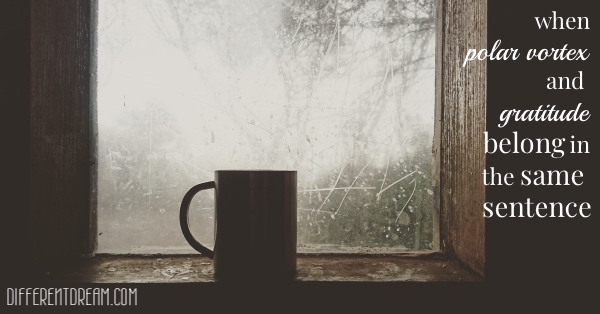 The polar vortex and gratitude. I never thought of pairing the two until the great polar vortex of January 2019. Even I have lived through plenty of what we called "cold snaps" until the 24/7 news cycle invented a more alarming term.
I was 9 in 1965, the year that held the record low temperature for January 30 until 2019.
I was 25 and 5 months pregnant in 1982 when the mercury dipped to -45° when we were living in northwest South Dakota.
I was 33 in 1989 when school was called off for 2 days before Christmas break, which meant my third grade students had their anti-climactic Christmas party when school resumed in January.
The difference between my response to previous cold snaps and the 2019 polar vortex go far beyond a name change. My response to the 1965 cold snap was delight when Mom said she would drive me to school. In 1982, my husband and I piled into our friends' car and traveled 90 miles to go out to eat, though the thermometer was -20° at its warmest.
In 1989 our son born with medical special needs was 7, and his baby sister was a few months old. By then I was haunted by what our son's early years had revealed. His multiple surgeries, frequent invasive procedures, and nearly constant infections and illnesses showed that bad things happen even when you follow the rules and choose wisely. Therefore, my wisest course of action was to control the situation tightly, to protect my children, and keep everyone inside until the cold snap ended, or we ran out of Kraft Macaroni and Cheese.
To read the rest of this post, visit the Hope Anew website.
Do you like what you see at DifferentDream.com? You can receive more great content by subscribing to the quarterly Different Dream newsletter and signing up for the daily RSS feed delivered to your email inbox. You can sign up for the first in the pop up box and the second at the bottom of this page.