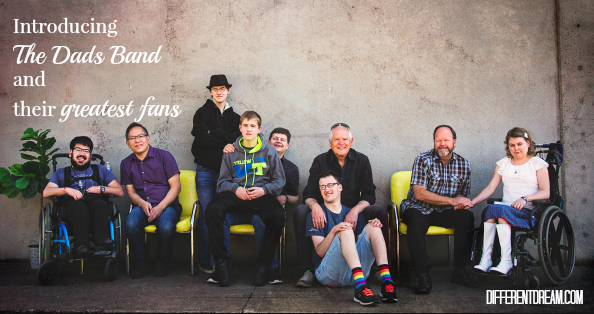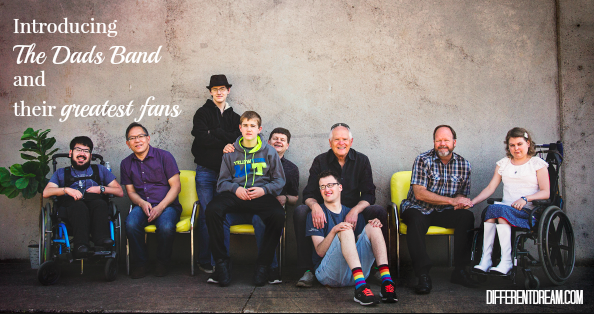 In this post, guest blogger Rachel Olstad introduces readers to the members of The Dads Band and describes their exciting new CD, The Waiting Room. Be sure to read to the very end to learn how you can enter a drawing, in which one lucky person win a copy of their CD.
Four musicians. Four fathers of children with severe disabilities. Years of playing together at Joni and Friends Family Retreat. Now performing their own music, the music that flows from their experiences of genuine faith lived in the middle of suffering, sorrow, and joyful hope. They are The Dads Band.
These four dads met years ago at a Joni and Friends Family Retreat for families affected by disability in the Santa Cruz mountains. Sean, Bart, Brent and Jim each have a child affected by disability – autism, Dandy-Walker syndrome, spina bifida, ataxia telangiectasia. Drawn together through disability, they soon discovered that they all were musicians and involved in ministry. Bonding over this triple crown of commonalities was a cinch.
They began leading worship at Family Retreat and affectionately became known as The Dad Band. They soon started to see each other throughout the year at other ministry events and sometimes even just for fun. People who heard them play kept asking, "When's the CD coming out?"
This past January, they finally came together for four days to record a CD. Each guy brought in three tunes he'd written or arranged out of his experience of being special needs father.
In Love is Silent Sean expresses his desire to communicate with his son who is nonverbal.
Bart's tune, On Gold Street, celebrates everyone dancing in heaven one day.
The Waiting Room is Brent's take on learning to wait in the shelter of God's wings.
Grab a tissue for Jim's song, She Likes to Dance, which will break your heart and make you smile at the same time.
In creating this album, The Dads Band hopes to encourage everyone, but especially fathers who have children with disabilities. Band members want to offer God's hope to those who are struggling with their child's diagnosis, to those who are struggling with the loss of dreams and expectations for their child's future, to those who are struggling in their marriages because the caregiving is sometimes just so hard. And they want to show that there is joy and love and laughter to be found on the path of disability journey.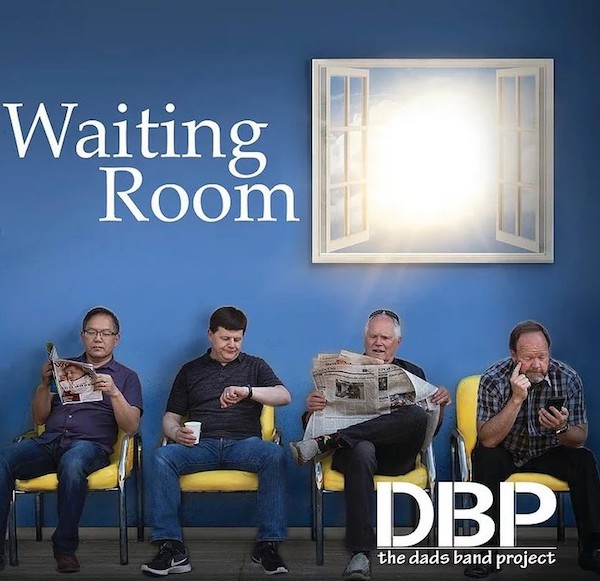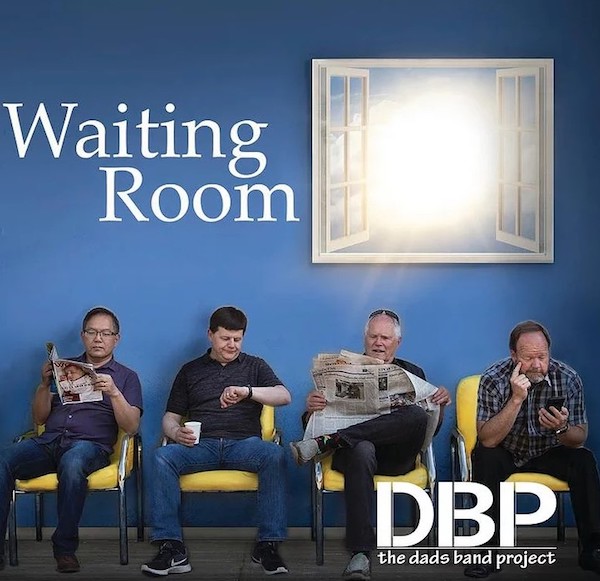 You can listen to clips of the tunes, read the story behind each song, and learn a little bit about the guys at www.thedadsbandproject.com. Any profits made from CD sales will be donated to Joni and Friends to help other families get to Family Retreats so that they, too, can experience what has been life-changing for these four men.
By leaving a comment below, you will be entered into a drawing in which one winner will receive a free copy of The Waiting Room. Leave your comment by midnight (CST) on October 25 to be eligible for the drawing.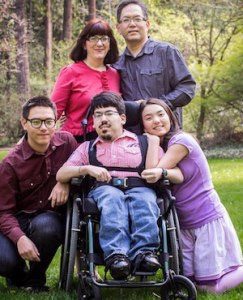 Rachel Olstad began her journey into the world of disabilities in 1990 when her oldest child was born with spina bifida and subsequently diagnosed with autism. She volunteers with Joni and Friends Southern Oregon, helping to meet the physical, emotional and spiritual needs of individuals and families affected by disability and encouraging churches to include all people. She was a contributing writer for both Special Needs Smart Pages and Nursery Smart Pages (Gospel Light), has been published in the Journal for Religion, Disabilities & Health, and was an assistant editor on Beyond Suffering: A Christian View on Disability Ministry. (Christian Institute on Disability)
Do you like what you see at DifferentDream.com? You can receive more great content by subscribing to the quarterly Different Dream newsletter and signing up for the daily RSS feed delivered to your email inbox. You can sign up for the first in the pop up box and the second at the bottom of this page