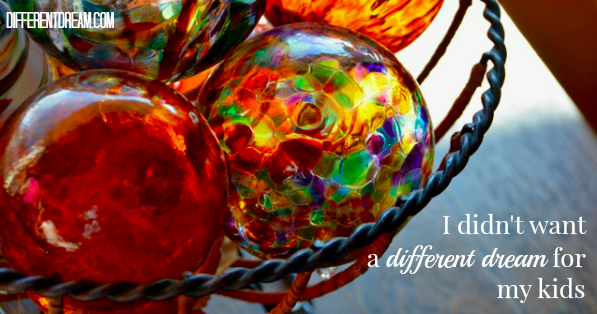 I didn't want a different dream. How many of us have uttered those words after a child has been diagnosed with special needs and disabilities. Guest blogger Heather Johnson openly shares how she came to accept and embrace the different dream of her children's lives.
I Didn't Want a Different Dream
I didn't want a different dream. I wanted my dream. Who, I wondered, finds themselves pregnant and hopes for a child born with brain damage or some other disability?  Not me. 
So when the question on the adoption form asked, "Would you consider a special needs child?"  
I checked the "NO" box.
No. Absolutely not. Special needs wasn't my dream. Special needs wasn't my calling. I was quite certain. 
I sent the videos of all three kids to the national expert in Fetal Alcohol Spectrum Disorders. He viewed them and shared his opinion that none of our kids had FASD—a concern of parents adopting children from Russia where there's a high incidence of prenatal exposure to alcohol.
Our adoptions finalized, first in Russia and later in the U.S., we knew our three kids (Anna, Zach, and Nick, then six, four, and nineteen months) would have developmental delays. No child can spend time in an orphanage and not have some sort of delay. My husband and I were prepared. I was a clinical psychologist and a former elementary educator who knew how to help the developmentally delayed catch up. No problem. All within my wheelhouse.
But then, I began noticing things that didn't look like just delays. They looked like possible brain damage. Getting lost in the house, over and over, despite repeated teaching. Learning numbers and letters in preschool, then suddenly looking at those same numbers and letters like she'd never seen them before. Then there were features so subtle that a video from many feet away wouldn't show:  small head circumference, thin upper lip, no upper lip groove, lower set ears, wandering eye, neurosensory hearing loss (no auditory nerve), heart defect, fine motor problems, gross motor problems, speech & language problems, emotional problems, behavioral problems and more.
The multiple diagnoses painted a new picture than the one I had hoped for our family. Multiple therapies by multiple professionals over the next 20 years and perhaps for the rest of their lives would be our life. The hard reality? All three of our kids had "special needs"—multiple, permanent, invisible disabilities stemming from prenatal exposure to alcohol. 
I didn't sign up for this. God bless those who do—those who check the "YES" box of willingness when it comes to special needs. But me? 
I knew I had a predisposition for depression and anxiety, inherited from my mother and her mother and who knows how far back. With healthy lifestyle choices and managing my stress, I lived a life free of medications. Then I found myself in a situation of no turning back. The unremittent stress of caring for three kids with so many special needs broke me. 
One day, I found myself sitting on the kitchen floor hoping the hum of the running dishwasher would remove the ache from my head and my heart. All I felt was numb. When my husband came down from our bedroom and saw me sitting there, he asked me what was wrong. Without even thinking, I uttered two words.
"I'm depressed."
Not the blues. Not the occasional bad day. But the overwhelming feeling that life is no longer worth living. Like you want to go to sleep and never, ever wake up. Like if you tried to walk you'd feel like your feet had been plunged into large buckets of wet cement and, once dried, you'd drag yourself around day after day. The gravitational pull of depression had done me in.
"Take me to the doctor. I can't even drive," I told him. He did. I needed him to physically support me as we walked into the office. I had no strength to support my own weight. Once in the examining room, the doctor came in and took one look at me. She knew. My countenance didn't lie.
Thankfully, after two weeks on a prescribed antidepressant, I was able to mother again, to smile again. My normal effervescence and zeal had returned. But I was still bewildered. Why would God want me to mother not one, not two, but three kids—all with invisible disabilities that would require eleven different specialists, multiple surgeries, expensive medications? Why me, one with depression? 
I don't know the answers exactly. But I do know that sometimes our dreams need to shatter so new dreams can form. Sometimes our dreams of what we think is best is really just a glimmer of the better. 
I can't speak for you or for anyone else. We all walk our own walk and are trying to find our own way. But for me, coming to the end of myself and what I thought I could do with all my God-given gifts and capabilities taught me some things I might not have learned any other way. 
I don't have to have it all together to give love.
I don't have to have it all together to receive love.
Embracing those with "special needs" helps us discover and embrace our own "special needs". 
Giving grace helps us accept grace.
We all need grace, don't we?
We all need love.  Especially all our broken bits we try so hard to hold together. 
Now I know, when I checked that "NO" box over two decades ago, that I needed exactly what I thought I didn't want. How many other things, or people, come into our lives as blessings in disguise?  
Today, I'm not so quick to say "NO" to possibilities because even in the pain of disability, I've found greater love and meaning in life than I ever thought possible. And I have three amazing, grown kids who have a special place in their hearts for all who will let their special needs show.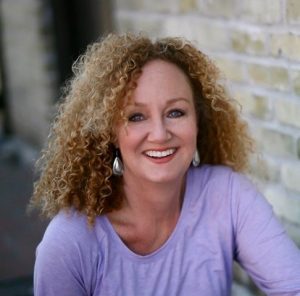 Heather MacLaren Johnson lives near Wisconsin's Lake Michigan shore with her husband of 25 years, 3 horses, 2 dogs, 2 barn cats, and a fish. She earned her B.S. in Education and her doctorate in Clinical Psychology before adopting 3 amazing kids from Russia, all now in their 20's, all with life-long challenges stemming from prenatal exposure to alcohol (FASD). She is completing a memoir about her mother/daughter journey through hidden disabilities and mental illness. Heather's essay about learning to ride horses at age 44 is included in Leslie Leyland Field's The Wonder Years: 40 Women Over 40 on Aging, Faith, Beauty, and Strength(Kregel Publications). She has published devotional pieces for The Seed Company (Wycliffe Bible Translators Affiliate) You can learn more about Heather at her website www.truelifewithgod.com.
Do you like what you see at DifferentDream.com? You can receive more great content by subscribing to the quarterly Different Dream newsletter and signing up for the daily RSS feed delivered to your email inbox. You can sign up for the first in the pop up box and the second at the bottom of this page.