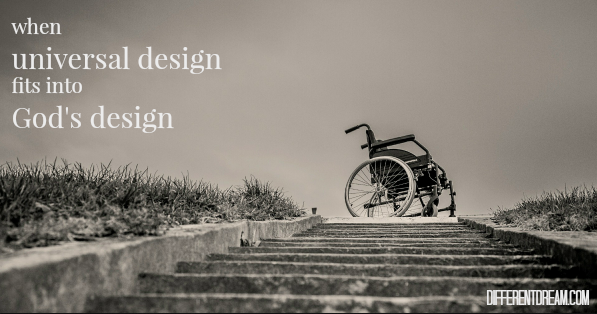 Universal design became part of my life in 1965, the year my parents moved into the only house designed for someone in a wheelchair in our small town of 8,500 people. Because of it's universal design, Dad could wheel anywhere in our home without assistance. More importantly, he could wheel outside in good weather, park in the driveway, and engage in conversation with anyone who came along.
"Hello," he boomed to pedestrians on our street. "Grab a lawn chair from the garage and sit with me for a spell." More often than not, they did. Many came back the next day and the next, throughout the summer, until Dad had converted strangers into friends. All because our home's universal design afforded him a rare freedom in a day and age when every church, library, school, store, and governmental building in town was closed to him and many others unable to navigate curbs, climb stairs, or enter narrow doorways.
By the time I left my parents' home in 1978, Dad was too weak to visit my husband and me. A small blessing since he couldn't have entered any of the homes we lived in unassisted. That undeniable fact niggled at me for decades. "If Dad could still travel," I told my husband, "he wouldn't be able to enter our house. He couldn't use the bathroom or stay over night."
My husband would nod at my proclamations. We knew that lack of universal design was excluding friends, family members, or church family with mobility issues from our home. Lack of universal design was also thwarting God's design for His church, excluding the very people Jesus actively ministered to. But lack of funds kept us from making modifications to change the situation, a reality that made me feel sad, frustrated, and guilty in turn.
To read the rest of this post, click to visit the Irresistible Church website.
Do you like what you see at DifferentDream.com? You can receive more great content by subscribing to the quarterly Different Dream newsletter and signing up for the daily RSS feed delivered to your email inbox. You can sign up for the first in the pop up box and the second at the bottom of this page.