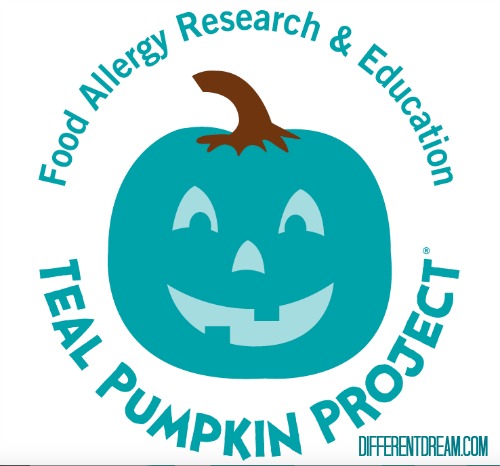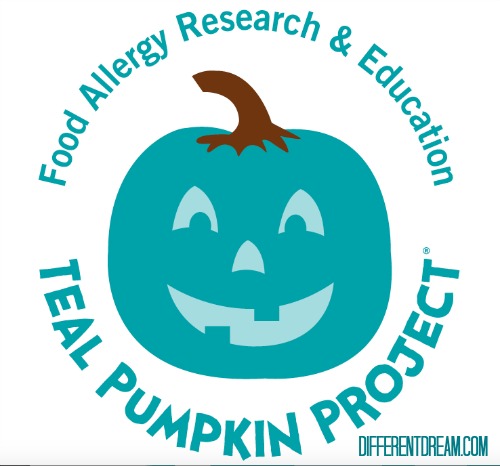 Guest blogger Jill Seaney wants every child to be able to celebrate Halloween. So her guest post explains what the Teal Pumpkin Project is, who it helps, and where to find resources.
The Teal Pumpkin Project: Halloween for Kids with Food Allergies
The Teal Pumpkin Project makes Halloween accessible for the one in every thirteen kids with food allergies. In the average classroom, two children have at least one known food allergy. Kids with food allergies are often left out of the fun because so many of the celebrations are centered around food. As a parent of a three-year-old who suffers from food allergies and cannot eat most food that is considered safe for others, I have invested a lot of time researching and coming up with fun food alternative ideas so that my child never has to feel left out. With Halloween approaching, I thought this was a great time to talk to people about the Food Allergy Research & Education (FARE) Teal Pumpkin Project.
The Teal Pumpkin Project helps make sure all children will come home on Halloween night or from Halloween events with something they can enjoy. Kids who have food allergies typically come home with a basket full of candy that they cannot eat. Its definitely hard explaining to a three-year-old that we have to throw all the candy out because it will make him sick. My hope is that through educating more people about the Teal Pumpkin Project, more people will offer non-food items and display a teal pumpkin so that all kids get to enjoy Halloween. Every child should be able to experience the joy and tradition of trick-or-treating!
Fortunately, FARE started the Teal Pumpkin Project to make it simple for everyone to help make Halloween special for kids that have food allergies.. All you need to do is paint one of your pumpkins teal, or buy a teal pumpkin (many craft stores sell plastic or ceramic teal pumpkins, too), and display it with your other pumpkins outside your home and then offer non-food treats. There are also signs that you can download and print from the FARE website that you can hang on your door or outside your home to let trick-or-treaters know that you support the Teal Pumpkin Project and have non-food treats to hand out. The link is included below. But remember, the best way to raise awareness is to have the teal pumpkin outside your home.
Remember to keep non-food treats in a separate bowl from the candy bowl to avoid cross contamination. How will you know which trick-or-treater has a food allergy and which doesn't?
It's as simple as asking, "Would you like a piece of candy, or would you like a prize?" Most children know that they have food allergies and will be so excited to go to a house and find something they can enjoy.
There are a lot of alternative treats to candy. Some examples are:
Stickers
Glow sticks, bracelets, necklaces
Bubbles
Mini Slinky
Bouncy balls
Finger puppets
Crayons, pencils, pens
Coins
Mini notepads
Mini flashlights
Whistles
The FARE website has created a map where you can add your address if you are participating in the Teal Pumpkin Project. By adding your address to the map, you are letting others know that your house will offer non-food items to trick-or-treaters. This year before I take my little guy trick-or-treating, I will be checking the map and finding a neighborhood that has several participating homes. Last year we were thrilled to have several in our own neighborhood, and I am hopeful there will be even more this year!
The goal of the Teal Pumpkin Project is to help children like mine feel included in the fun of Halloween. I hope you will consider joining the movement as well and help all children have a very happy Halloween this year.
For more information on the Teal Pumpkin Project, please visit their website.
The Teal Pumpkin Project home sign can be downloaded here.
The Teal Pumpkin Participating Homes & Businesses Map can be accessed here.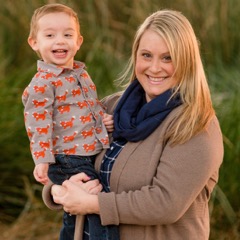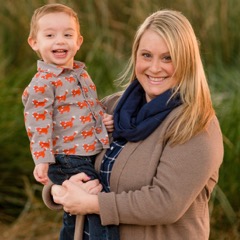 Jill lives in Tucson, AZ with her husband Jeff and their son Blake. She worked in Human Resources up until 2014 when her son was born with VACTERL Syndrome which included EA/TEF. Jill resigned to care for her son full time. Later he was also diagnosed with a Congenital Diaphragmatic Hernia and Eosinophilic Esophagitis. Jill's personal blog (Beloved Blake) documents his surgeries and health challenges, their family struggles, and Blake's milestones. Jill loves writing and teaching others about what it's like raising a child with complex medical needs. She wants to be a blessing to other parents just starting on this journey.
Do you like what you see at DifferentDream.com? You can receive more great content by subscribing to the quarterly Different Dream newsletter and signing up for the daily RSS feed delivered to your email inbox. You can sign up for the first in the pop up box and the second at the bottom of this page.
Save
Save