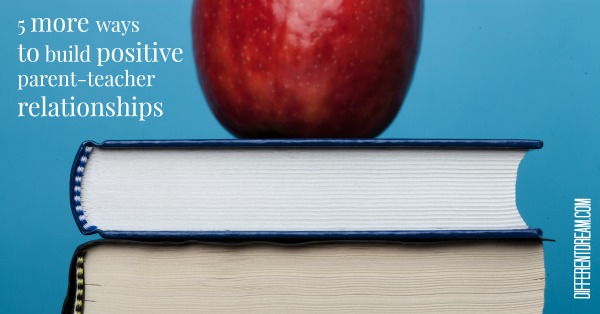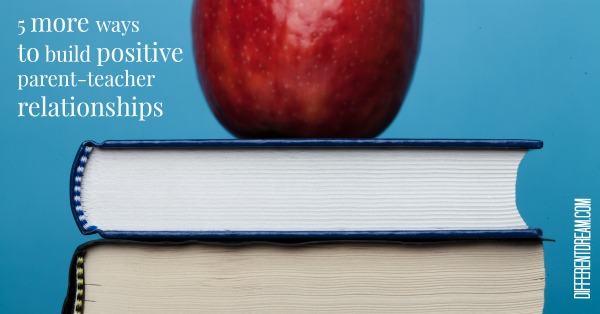 Are you looking for ways to build positive parent-teacher relationships as the new school year begins? This blog series is based on what I, Jolene, learned during 25 years as an elementary teacher. My classroom was inclusive, with about 1/3 of the students receiving resource room services as specified in their IEPs and 2/3 of the students without IEPs. Last week's post looked at 5 tested tips that can build positive parent-teacher relationships. This week's list contains 5 more.
5 More Ways to Build Positive Parent-Teacher Relationships
Tip #6: Write a Thank You Note
Sometimes teachers or other educator in the school make a spectacular difference in a child's life. Whether that person creates a special bond with your child, advocates for more services, or creates an environment that school a safe and happy place, send a thank you note. This strategy not only gives the teacher the praise due her, but also builds good will between parent and teacher. From experience, I can say that a sincere thank you note can bring tears to a teacher's eyes when she needs encouragement.
Tip #7: Teach Your Child to Give
Does your child get enough to eat, have clean clothes to wear, and a comfortable place to come home to each day? If your answer is yes, your child is richly blessed. But children who want for very little can begin to feel entitled rather than grateful for their blessings. One way to boost their gratitude quotient is to teach children to give. Have them sort through toys for nice ones to give away. Encourage to give some of their allowance to church. Choose a family service project or raise money for worthy causes. Children who learn to give bring that attitude to school. They help create compassion in their classroom and in their friendships. Their kindness also builds positive parent-teacher relationships.
Tip #8: Promote Independence
When children are small or not developing as quickly as their peers, it's often easier to do things for them than to teach them to do things for themselves. But it's crucial for parents to teach kids age- or ability-appropriate skills that lead to greater independence as soon as they're able to learn them. Children with skills that make them more independent feel empowered and more confident. They are more likely wait to ask for help until they need it and less likely to develop an attitude of entitlement. Like children who learn to give, these children bring their healthy attitudes to school and change the climate in their classroom. Educators respect and think positively about parents who encourage age- or ability-appropriate independence in their children.
Tip #9: Offer Solutions
When problems arise at school, try to think of them as opportunities to build better and more positive parent-teacher relationships. Ask questions to find out what the problem is and about how it could be fixed. Think about the solutions offered, and you agree with them, that's great. The problem can be solved. But if the solutions aren't adequate, offer some of your own. This can feel intimidating, but it can be done. You are part of your child's education team, and you are the expert on your child. Present your solutions calmly, rationally, humbly, and with a willingness to listen to the opinions of others. Working together to solve problems on behalf of the child can create positive parent-teacher relationships.
Tip #10: Follow the Biblical Model
If your best efforts at solving a problem fail and the conflict can't be resolved, you must advocate for your child. The Bible provides a model for conflict resolution. First, go to the teacher involved about the problem one-to-one. If that is unsuccessful, ask for a meeting with the teacher and whoever is directly over that teacher–probably the building administrator or a special education administrator–and try to resolve the problem there. If that doesn't work, ask for a meeting with the administrator at the following level. Advocate and continue until resolution is reached. To learn more about legal rights of children with special needs at school, visit WrightsLaw.com. It contains a wealth of information.
There you have them. 5 more ways to build positive parent-teacher relationships for a new school year. To check out the first 5 tips, check out Part 1 of the series. Also, leave your best tips in the comment box so readers can learn from you, too.
Save