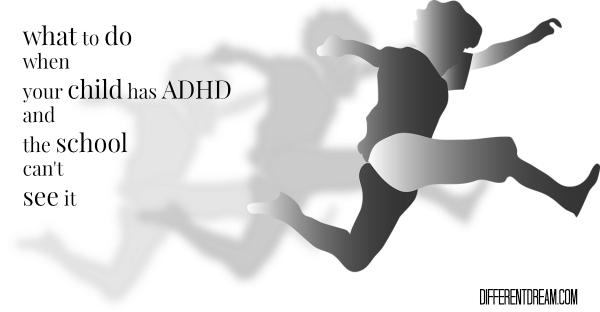 What do you do when your child has ADHD and the school can't see it? That's a puzzle Trish Shaeffer had to solve during the past school year. In this blog post, she shares resources and strategies she discovered in case you are in a similar situation in the upcoming school year.
My Child has ADHD and the School Can't See It
Keeping it all together at school can be hard for my son Logan. His behaviors and meltdowns at home keep getting worse when certain seasons, like testing and PSSA, roll around.
Unfortunately, the school can't see it as I do or as his doctors and therapist do. Often, the school states that they do not see our child's ADHD behaviors at school. They don't know that our son keeps it together all day at school and then when he gets home, he explodes. A simple homework task can take 3 hours or more because of meltdowns, anger and the life-isn't-fair speech. Destructive behaviors surface because he wants to be heard and get his frustrations out after school–unfortunately the trash can was the target that day.
A parent can feel alone or crazy because the school can't see it. This has happened for me with Logan. When he started kindergarten, the school exchanged his preschool IEP for a 504 plan. All it mentioned was his peanut allergy. Logan did okay in kindergarten because his teacher understood him and less was expected of him during that year.
Fast forward to first grade, and Logan struggled in every area. No matter how we tried to help him and study, it didn't add up. It took hours, if not days to complete one page, and the meltdowns when from small to critical. No matter how much I talked to the school and the teacher they couldn't see it. I felt like they thought I was crazy or making it all up even though I had documentation.
By the end of the third marking period, the school called and said that Logan needed help and testing. It surprised me, but also frustrated me. Why did it take so long?! No one really knows. But I sigh with relief because Logan will now be put in therapy groups for behaviors and anger issues. He's being tested. Finally I am being heard and Logan is hopefully going to get the help he needs.
As a parent, I try to read as much as I can to keep on top of the issues with schools regarding ADHD. I've learned the best way to work with the school is to know as much as I can and teach them along the way. Here are some books I have recently read to hopefully close the gap on ADHD and autism for teachers and parents.
Remember that knowledge and advocating is key. You need to write down the facts that show your child has ADHD or autism or behavior issues. It maybe taboo to talk about meltdowns, anger, and behaviors because it feels like you have failed as a parent. But it's not about us. We all love our kids, and we want to help them. We need to stay strong and positive as parents. We need all the help and support we can get and so do our kids. We need to keep advocating until the school sees our kids as we do, so they get the help they need.
Do you like what you see at DifferentDream.com? You can receive more great content by subscribing to the quarterly Different Dream newsletter and signing up for the daily RSS feed delivered to your email inbox. You can sign up for the first in the pop up box and the second at the bottom of this page.
Save