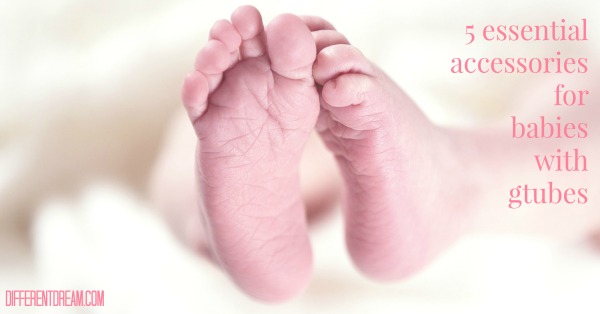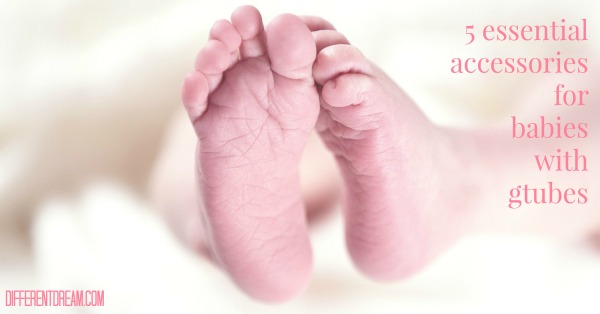 Guest blogger Maheen Tarvers, mom to a baby born with EA/TEF, is here to kick off her series about gtube baby basics. In part 1, she reviews accessories that make life easier for both parents and their babies with gtubes.
Gtube Baby Basics, Part 1
Before my son was born, I didn't know gtubes existed! After he was born, I couldn't find one article or internet site with the knowledge I needed. I spent hours (I still do) learning and relearning things I wish someone told me beforehand. This series is my attempt to simplify things for new parents. This part of gtube baby basics will cover gtube accessories.
Necessity is the mother of all inventions, especially for parents of a tubie child. I want to personally thank that person who came up with the brilliant idea of making gtube covers, feeding bag holders, connector covers, syringe holders, and adaptive clothing. There maybe more accessories, but I found these to be the most helpful.
#1: Gtube Cover Pads
These are cute, artsy and handy. They keep the site super dry. They are also pain free because there's no need for pesky split gauze and tapes to shut them, and there is no risk of skin irritation. Cover pads come in cartoon shapes, sizes and cute prints–from Super Mario to Cinderella. They are made to order, and some sellers allow you to choose the fabric, the size and sometimes shapes as well. You might be sad that your baby has gtube, but look at the bright side–you get to shop for something unique!

#2: Feeding Bag Holder
Parents of children with overnight feeds, I know your pain. Having a baby on a feeding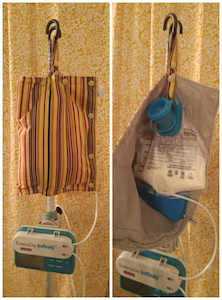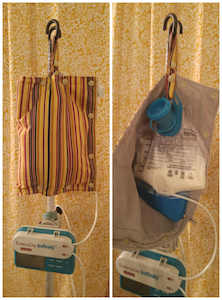 tube is hard and can be exhausting. Even harder is when you are trying get up every other hour to juggle everything for overnight feedings. Feeding bag holders are a perfect solution. When our son had continuous overnight feeds, we used to make a full batch of formula for the night feeds, put it in, and added ice packs. I had peace of mind and sleep at the same time–Ah!!
#3: Connector Holders
I have yet to meet a gtube baby parent who has successfully avoided crib feedings. Luckily, someone came up with a solution, and voila, the problem was solved. With connector holders  placed on the connector, the fear of having a little one kick the connector out during crib feedings and lathering their skin with formula while sleeping is gone. If you use the AMT MiniONE gtube instead of MIC-KEY gtube, your medical supply company can supply night time connectors. They can be used with Mic-key as well, though they are a little snug for the Mic-key button.


#4 Syringe Holders
Yes, syringe holders exist and are amazingly useful when traveling. They can be used to store travel syringes–and even an extra extension cord–in your emergency medical supply (EMS) backpack. They in handy when you are in a hurry and forget to grab different-sized syringes on your way out.


#5: Adaptive Clothing
Adaptive clothing is cute, fashionable and yet very much accessible for gtube babies. The downside is that it can be a bit expensive. If you don't want to spend a fortune, use snap button onesies, overalls, and wearable swaddle blankets. Or you can cut a hole in the onesie. It won't last long unless you sew in the ridges of the hole. Also, when you buy a wearable swaddle blanket or onesie with a zipper, be sure to buy ones that close from neck to toe rather than  hip to neck.
Or, you can dress your child like this:


I call it Superhero in Training, which always starts with wearing underwear on the outside!
Gtube baby basics, especially adaptive clothing, are a niche business. You can find them at Etsy and Facebook. To find other gtube baby basics accessories–from trach covers, adaptive clothing and even beds and inclines–go to the Feeding Tube Awareness Foundation.
There you have it! In coming posts, we will talk more about caring for your tubie, granulation tissue, to emergency medical supply bags, and traveling with your tubie. Until next time, enjoy those cute gtube baby basics accessories for your little one.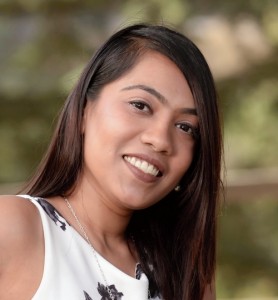 Maheen Tarver is a Bengali Muslim born and raised in Bangladesh.  Before she was a full time, messy bun, no makeup, super-busy mom, she was a project coordinator in Bangladesh educating underprivileged, young garment workers about health, safety and environment. She lives with her husband William and son Waqeed Dean (WD) in Massachusetts. Maheen now spends her researching EA/TEF and encouraging other EA/TEF moms to become advocates for their children.
Do you like what you see at DifferentDream.com? You can receive more great content by subscribing to the quarterly Different Dream newsletter and signing up for the daily RSS feed delivered to your email inbox. You can sign up for the first in the pop up box and the second at the bottom of this page.
Save
Save
Save
Save