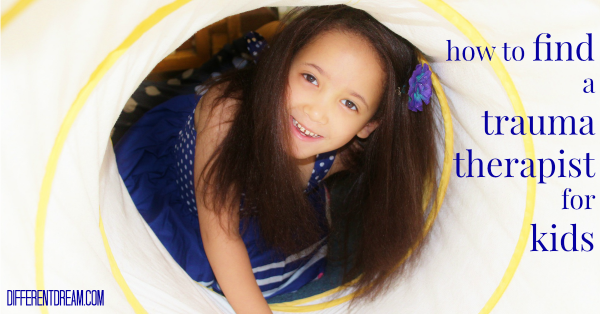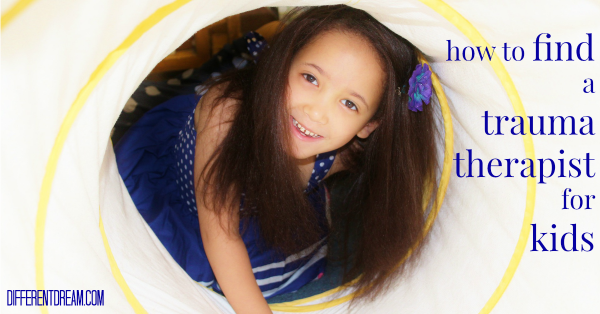 Finding trauma therapists for kids is a struggle for many parents. However these simple steps can help parents around the country find trauma therapists for kids dealing with unresolved stress, anxiety, or PTSD.
How to Find a Trauma Therapist for Kids
Step 1: Ask Around
When families move to a new town, parents often ask other parents to recommend a good kids' dentist or doctor. So why not follow the same strategy when looking for a trauma therapist for kids? Be sure to ask someone whose judgment you trust and then conduct your own screening using steps 3–7 below.
Step 2: Use a Therapist Locator
Psychology Today has a user friendly therapist locator at their website. Just type in your zip code and a list of therapists in your area will pop up. Another good therapist locator can be found at the Good Therapy website.
Step 3: Screen the List
Scroll through the list and jot down the names of therapists who meet these basic criteria:
They work with children the age of your child.
They have trauma-specific training.
They do more than talk therapy (look for therapists who use hypnosis, Eye Movement Desensitization Reprocessing (EMDR), guided imagery, neuro-feedback, and play therapy rather than Trauma Focused Cognitive Behavioral Therapy (TF-CBT).
They operate from a worldview consistent with yours.
Then go back and read through each profile. Circle the names of therapists who meet your criteria.
Step 4: Call Your Insurance Company
Call your insurance company to find out which therapists are within your network. Cross off those who aren't.
Step 5: Do a Phone Screening
Call the offices of the remaining names on the list. If a receptionist answers, find out when to call back to speak to the therapist directly. Ask questions about the types of trauma therapy they do with children, what their fees are, how much is paid by insurance, and how long until an appointment can be scheduled.
Step 6: Visit a Therapist
Schedule a first visit with the person who rises to the top of your list. During that appointment, the therapist will conduct an intake assessment. Observe how he or she interacts with your child. The therapist should talk more to your child than to you and should treat your child as a person, not an interesting case. If you like what you see, schedule a second appointment during which therapy will begin. If not, move on to the next therapist on the list.
Step 7: Assess the Situation
If your child visits the therapist for an hour a week, you should see progress in a few months. If no progress has been made after 3-6 months of treatment, find a different therapist.
How Did You Find a Trauma Therapist for Kids at Your House?
Did you find a trauma therapist for kids in your care? Give them a shout out in the comment box and add more tips about how you found the right person.
Do you like what you see at DifferentDream.com? You can receive more great content by subscribing to the quarterly Different Dream newsletter and signing up for the daily RSS feed delivered to your email inbox. You can sign up for the first in the pop up box and the second at the bottom of this page.
Save