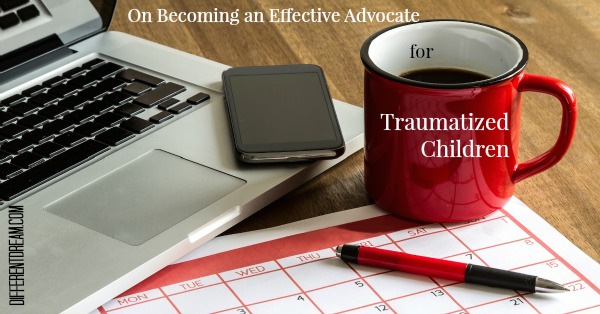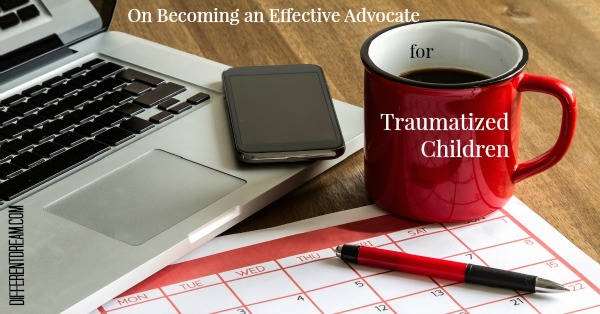 This article is the eleventh in a series about PTSD in children. Previously, children have been the focus of each post. In this article and the next, the parents of traumatized children will be front and center. Why? Because children with PTSD can't advocate for themselves. They need us to be their voice when they are too small and too broken to advocate on their own behalf. This post discusses three skills parents must cultivate to be effective advocates for traumatized kids.

How to Become an Organized Advocate for Traumatized Children
Parenting children with unresolved trauma can be a challenge at home. And because their worlds extend beyond their family circles they can encounter trauma triggers at school, athletic events, church, and in the community that send them into a behavioral tailspin. Therefore, parents must become effective advocates in all those places. To do so they must be organized.
Advocacy generates a mountain of information and paperwork. Here are a few simple ways to make that mountain scaleable.
Use a spiral or composition notebook to write down questions and log observations about how your child responds to triggers and stressful situations and to track behavior patterns at home, school, and social events. Take the notebook with you to all medical appointments, therapy sessions, and school meetings. With your observations in good order, you will be able to add to any discussion.
Use a three-ring binder and file folder system for hard copies of paperwork related to your child's school career, therapies, and medical interventions.
Create and label electronic folders for emails and documents if you prefer computerized records. You can also use Google Docs to create your own forms and integrated calendars and schedules.
Use your smartphone to take pictures of hard copy forms or calendars that you use for scheduling and email them to yourself. Then create email folders for storing them.
To read the rest of this post, please visit Key Ministry's blog, Church4EveryChild.
Do you like what you see at DifferentDream.com? You can receive more great content by subscribing to the quarterly Different Dream newsletter and signing up for the daily RSS feed delivered to your email inbox. You can sign up for the first in the pop up box and the second at the bottom of this page.
Part 1: Writing About PTSD Was Not on My Bucket List
Part 2: Childhood Trauma by Any Other Name Is Still Traumatic
Part 3: 10 Myths about PTSD in Children
Part 4: What Causes PTSD in Children
Part 5: A Look Inside the Brain's Response to Childhood Trauma
Part 6: Why the Spotlight Is on PTSD in Children
Part 7: Childhood PTSD Symptoms in Tots, Teens, and In Between
Part 8: Why and How Childhood PTSD Is often Misdiagnosed
Part 9: Effective Treatment of PTSD in Children
Part 10: How to Prevent PTSD in Traumatized Children
Part 11: How Parents Can Advocate Effectively for Traumatized Children
Part 12: 4 Reasons Traumatized Kids Need Mentally Healthy Parents
Part 13: Clinging to Faith While Parenting Children with PTSD