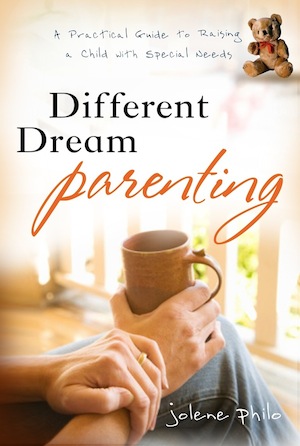 Good news, good news for those of you who are part of the wired generation! An electronic version of Different Dream Parenting: A Practical Guide to Raising a Child with Special Needs is now available for purchase on Amazon.
Purchase Your Different Dream Parenting eBook
The digital version of the book has been available since mid-February. But because it has it's own page, the occasion went unnoticed until I finally checked with the publicist at Discovery House Publishers (DHP). Hopefully, DHP will soon link the two pages as I recently suggested. They're usually very good about humoring my requests. But until they do:
To purchase the electronic version of Different Dream Parenting, click here.
To purchase the print version, click here.
To purchase the print version of my other book, A Different Dream for My Child, click here. (No electronic version yet, but DHP is working on it.)
To purchase all three – which I think would be really nice of you to do – click here, here, and here🙂
To leave a comment about this foray into shameless self-promotion, leave a comment below.
Watch the Different Dream Parenting Book Trailer
Discovery House Publishers recently put the finishing touches on a new book trailer about Different Dream Parenting, too. The YouTube video is embedded below, and it can also be found by clicking on the Buy the Book tab, but I really don't want to mention that because I'm already over my quota of shameless promotion for one blog post.
Comments Welcome
Once you've checked out all the links and watched the book trailer, leave a comment to share your thoughts. And please, pass the Different Dream Parenting ebook news along to your wired friends.
Do you like what you see at DifferentDream.com? You can receive more great content by subscribing to the quarterly Different Dream newsletter and signing up for the daily RSS feed delivered to your email inbox. You can sign up for the first in the pop up box and the second at the bottom of this page.