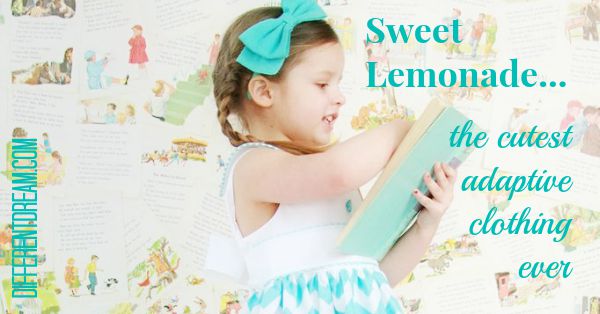 Today's post is about a company that may be of interest to parents of kids who deal with g-tubes, rigidity, wheelchairs, and anything else that makes clothing a challenge for them.
Adaptive Clothing from Sweet Lemonade
Grandma and seamstress Debbie MacMaster is the creator and owner of a clothing line called Sweet Lemonade Designs. She grew curious about adaptive clothing after the birth of her grandson Ryan in 2008. His rigidity due to cerebral palsy (CP) made dressing him difficult. So she put her sewing skills and design experience together to create a line of clothing for kids.
Check Out Debbie MacMaster's Adaptive Clothing Site
At Debbie's website www.sweetlemonadedesigns.com you can look at photos of of her creations – worn by real life models – that show front and back views. She has tops, bottoms, sets, dresses, plus sizes, even tutus. Yes, you heard that right. Tutus. And everything is cute, cute, cute. And all the adaptive clothing is custom made by hand.
Questions about Prices and Ordering
The site mentions shopping and shopping carts, but Debbie says most people place orders by emailing her via the contact link. Prices for most items run from $30-55, and orders take from 2 – 4 weeks to fill. She focuses on clothing for children ages 2 – 10, but does larger sizes as needed.
And just so you know, I don't get any payment for the products mentioned in posts at DifferentDream.com. Nor am I endorsing them with my stamp of approval. I'm just passing along information for you to investigate and hoping it will make your parenting journey a little easier. And in this case, cuter than a bug's ear, too.
Do you like what you see at DifferentDream.com? You can receive more great content by subscribing to the quarterly Different Dream newsletter and signing up for the daily RSS feed delivered to your email inbox. You can sign up for the first in the pop up box and the second at the bottom of this page.