Special Needs Ministry Topics
These workshops are designed to provide a complete two day training for church children's ministry staff and volunteers or other groups interested in launching a special needs ministry. Or churches can choose a few of the workshops that best meet their needs.
Disabilities and Faith Overview: Where do disabilities fit into the framework of our faith? What does the Bible say about special needs? How do disabilities affect faith development? This session answers those questions and more.
Creating an Inclusive Culture at Church: This workshop explains how to create a welcoming climate for those with disabilities across church ministries and age groups.
Understanding Parents of Kids with Disabilities: Learn about the concerns parents have for their kids with special needs and how to partner with them to encourage spiritual development in their children.
Special Needs Ministry Logistics: Enrollment, information forms, volunteer training, staffing, scheduling, confidentiality, and other children's ministry logistics will be covered.
Classroom Modifications for Success: This session is packed with ideas volunteers can use to modify space and adjust curriculum to better meet the needs of all learners.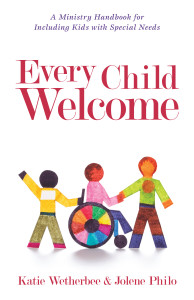 Many of the concepts in this workshop are also discussed in Every Child Welcome: A Menu of Strategies for Including Kids with Special Needs written by Katie Wetherbee and Jolene Philo.
For more information or to book a training, contact Jolene via email.