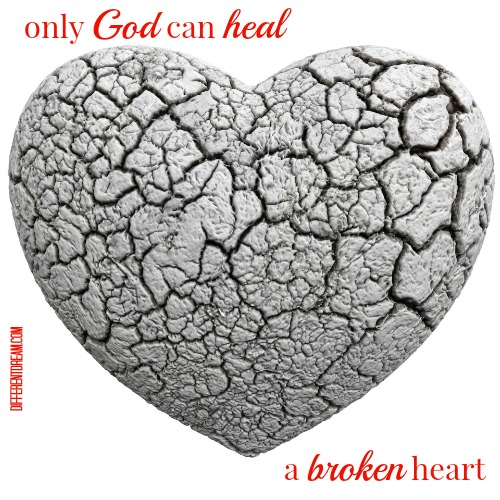 Guest blogger Kimberly Drew is at Different Dream today sharing the story of how God miraculously healed their new daughter's tiny heart. Though special needs challenges remain for their little girl, Kimberly is grateful for how God answered the prayer of her mother's heart.
Only God Can Heal A Broken Heart
Right after we agreed to adopt our youngest daughter, a social worker from the hospital where she was born called and said very somberly, "You do know that she has a very significant heart defect right? It will require surgery." I had known when we said we would adopt her, but there was so much other information to go over about her health that I pushed her heart issue to the back of my mind.
She was a newborn fighting for her life, and we would take one hurdle at a time… and I was 600 miles away.
The first time I went to visit her she was a week old. She was on a constant heart monitor and her numbers were quite high. We quickly got to work "kangarooing" with her, a type of skin to skin contact. We watched in amazement when after only a few minutes of kangarooing, her heart rate would drop down into the normal zone.
Love was at work in her body.
She had several EKG's and heart ultrasounds while she was hospitalized. After a month and a half in the NICU she was released. We were told to get her to a cardiologist, and several other specialist, within the first month of being home.
Visit one to the cardiologist went well. Not great, but mostly good news. The doctor was amazed. She said she couldn't imagine how this hole in her heart had closed so much on its own. Her large ventricular septal defect (VSD) had closed quite a bit on its own.
"Looking at the size of the scar, I can't believe we aren't talking about heart surgery right now!"
The sad news was that because the right side of her heart had been working so hard, the left side of the heart was enlarged. We would go back in 8 months to see how she was doing and make decisions.
Last week was our 8 month follow up.
We waited for the cardiologist to give us the news. After eight months, we were told that miraculously, not only had the VSD completely closed but that she no longer had an enlarged heart. Everything looked great, and we never had to come back!
I was trying hard on the way home not to cry.
In part, because I was so relieved. With her other special needs piling up, this is one problem that we could cross off our list. This was a miracle! The other part of me was crying because all I could think of was that God had healed her broken heart.
How beautiful and how painful that statement is.
There is a scar on her heart that any scan will see no matter how much time passes. It will be a reminder that she was hurt, but that God healed her physical heart without any medical intervention. I said a prayer in the car that I could hardly get out of my mind.
"God, would you heal my broken heart too?"
We all have holes in our heart–wounds that others have inflicted, traumas we've experienced, hardship and trials, loss and regret. Scars don't leave. Scars are reminders, but God is a great healer and the gaping holes can be closed without the intervention of anyone or anything else. Let Psalm 34:18 be a balm to your soul.
The Lord is near to the brokenhearted
 and saves the crushed in spirit.
If you are brokenhearted today, I pray that you will look to God for ultimate and miraculous healing. Let love be at work in your body too. Only God can heal a broken heart.
He is near to your broken heart and ready to save your struggling spirit.
Have You Seen God Heal a Broken Heart?
If so, you can share your story in the comment box. We'd love to hear how God is at work in your heart and the hearts of your children.
Do you like what you see at DifferentDream.com? You can receive more great content by subscribing to the quarterly Different Dream newsletter and signing up for the daily RSS feed delivered to your email inbox. You can sign up for the first in the pop up box and the second at the bottom of this page.
Save