4 Ways to Hunker Down for a Special Needs Holiday, Part 2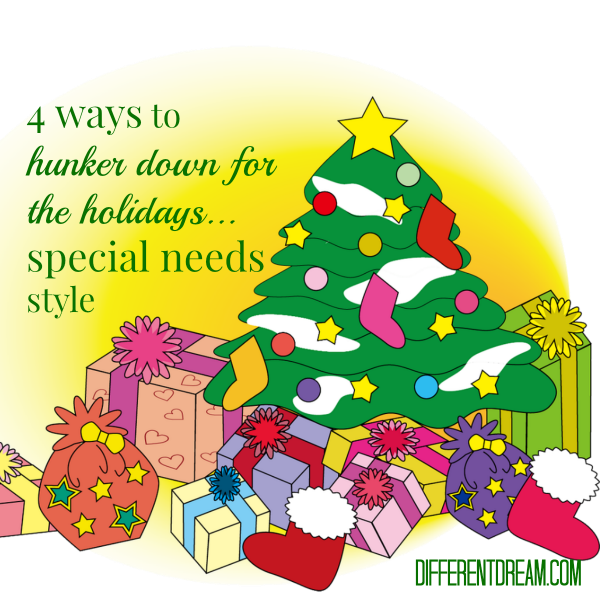 Would you like to hunker down for the holidays with your family this year? Barb Dittrich, Founder and CEO of Snappin' Ministries and mom of 3 kids with special needs, has discovered several ways to make that happen. Yesterday she shared her first tip, and today she's back with 3 more.
4 Reasons to Hunker Down for a Special Needs Holiday, Part 2
Special Needs Holiday Tip #2: You Cannot Have It All
You can't be guaranteed that your child is not going to have a complete sensory meltdown when you take them to an unfamiliar setting in close quarters, with lots of noise, maybe having to wear fancy clothes, and being offered strange foods. There are no promises that extended family will not say awful things about your challenged child whom they only see on rare occasion. Compassion for the fact that you may have just survived a hospitalization is not even a reasonable expectation.
When it comes to the holidays, we have to remember that there is a trade-off for everything. If we are going to bravely venture into the large family obligations, we will pay a price. Asserting our boundaries and saying "no" to certain invitations will also have a cost. Just realize that each action will have an equal and opposite reaction. We realized that it worked best for us to have our own separate family visits with grandparents and then another one perhaps with an aunt or uncle, rather than attending the large extended family gathering. This caused friction at first. It was hard to feel a bit left out when everyone else was together in the same place. But after a year or two of this new tradition, we discovered that this rhythm was much better for everyone.
Special Needs Holiday Tip #3: Turn Down the Volume
Being intentional about quiet time during this season is more important than any other time of year. Prayer and scripture helps parents like us to gain discernment as we walk through the challenges of Thanksgiving, Christmas, and New Year's.
Becoming minimalist in our activities, spending less, and cuddling more can increase the quality of the year-end beyond what we ever could have imagined. These are sacred moments that we can store up in our hearts to carry us through the more difficult times of life. Watching the flickering of a candle or Christmas lights, gentle seasonal music, and slowly savoring a favorite treat or beverage with our children can usher us into a holy, hushed, meaningful space together. Couldn't we all use that in our hectic lives?
Special Needs Holiday Tip #4: Write Your Own Holiday Story
Now that my children are older, nothing warms my heart than hearing them laugh and say, "Remember when…?" Because we asserted our boundaries and began our own traditions when our children were young, our kids are now left with their own cherished memories. We have our own family story to share.
Some of these quiet traditions are things that define us. The Advent calendar book where we look behind giant lift-the-flap doors to read the Scripture for each day; the laying of an old, enormous comforter in front of a roaring fireplace while we watch certain movies; laying under the Christmas tree and looking up the trunk at all of the reflective ornaments; paging through photo albums of years past, are just a few of the things that define us as a family of five. Reflecting on these moments make me so grateful that we did the hard work of hunkering down for the holidays in our own, quirky sort of way.
While setting our own tone for Thanksgiving, Christmas, and other holiday celebrations can be stressful, it ultimately sets better expectations for the years ahead. Know that you are not alone in your struggle to adapt to the special needs of the children you love most.
For More Special Needs Holiday Ideas
Snappin' Ministries' Holiday & Special Needs Pinterest Board
4 Reasons to Hunker Down for a Special Needs Holiday, Part 1
Do you like what you see at DifferentDream.com? You can receive more great content by subscribing to the quarterly Different Dream newsletter and signing up for the daily RSS feed delivered to your email inbox. You can sign up for the first in the pop up box and the second at the bottom of this page.
The mother of three children, all of whom have a variety of chronic illnesses or special needs, Barbara Dittrich founded Snappin' Ministries (Special Needs Parents Network) in 2002 and currently serves as its Executive Director.  The organization she leads was one of three finalists for WORLD MAGAZINE'S Hope Award for Effective Compassion in October of 2009, in conjunction with the American Bible Society.  With a unique vision for serving parents of children with chronic illness, disability, or special needs, she has led the SNAPPIN' MINISTRIES team in developing an innovative parent mentor curriculum.  She lives with her husband of 20+ years in Wisconsin and writes and speaks nationwide.
Subscribe for Updates from Jolene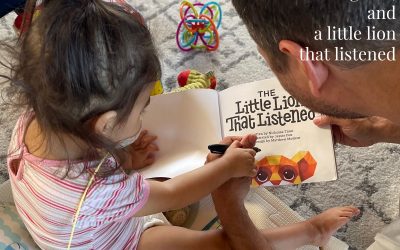 Author Nicolas Tana tells readers about the little girl behind his new children's book, The Little Lion that Listened.
read more