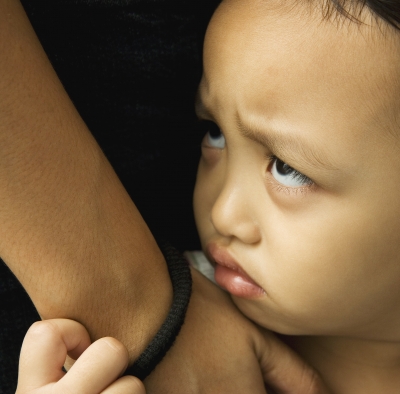 Tantrums are a reality for those parenting kids with special needs such as autism, sensory sensitivity, behavioral issues, and mental health conditions. Guest blogger Stephanie Husted is all too familiar with tantrums and the responses of onlookers. Her poem about dealing with her son's tantrums may resonate with you, too. She begins with the introduction below.
I have seen your eyes.
When I am at the mall trying to pull my autistic son off of the play structure and he is kicking and screaming.
When I am in the grocery store and he has his hands over his eyes because the lights are too bright for him.
When he has licked your child on the playground despite the fact that I keep telling him, we do not lick people.
When the noises at the supermarket have sent him into a screaming rage in a matter of seconds. (I never know what might cause him to have a meltdown-honestly)
When he is banging his head on the table repeatedly while we are waiting for the waitress to bring us our dinner.
Your eyes seem to say…
Discipline your child
Stop him from behaving this way
DO SOMETHING.
What you cannot see is that my child is autistic.
He sees the world from a perspective that even I have yet to fully comprehend.
Sometimes when I try to hug him, he says that my touch burns
Sometimes he repeats the same phrases over and over again
Sometimes he rocks his head back and forth and flaps his arms (It's called stimming)
Sometimes he says noises and lights are just too much for him-and he wants to hide somewhere safe.
Sometimes he looks me right in the eye-and says I love you.  It is a rare gift-and it gives me hope for the future.
I have seen your eyes.
Tantrum
And all eyes rest upon you
As his squeals reverberate
And you struggle just to calm him
In his frenzied- angry state.
And he tells you that he hates you
And his fists fly in the air
And you know that those around you
Just cannot help but stare.
It's hard to say what brought this on
A smell, a noise, a touch
For in his tiny body
This world seems too much.
These same hands that once rocked him
Now hold his kicking feet
And you wonder what has happened
To that baby once so sweet.
Then he stops twisting beneath you
And looks up into your face
And he says, "I'm sorry mommy."
And you find that peaceful place.
The silent place inside you
That knows he doesn't mean it.
A look passes between you both
Though no one else has seen it.
You help him up onto his feet
And grasp his tiny hand
And you know that those around you,
Just cannot understand.
You hear the words… "A spoiled brat"
From somewhere far behind
Oh why can't people ever learn?
It's better to be kind.
You hear his soft apology
"Sometimes I just get mad
And then I just can't help myself
Mom, why am I so bad?"
And as two warm and tiny arms
Wrap tight around your neck.
You collapse in the grace of the moment
A broken and beautiful wreck
And it becomes apparent
In quiet introspection
God loves us in a similar way
Despite our imperfection.
At times we struggle just the same
In anger and defiance
Afraid of what we do not know
Avoiding all compliance.
You look down at your weeping son.
His tears have stained his cheek.
You realize then, that in your strength
You will always be weak.
All eyes follow you toward the doorway
As you smile at each passing face
And you hope that those around you
Have seen a glimpse of grace.
Comments?
Once again, Stephanie's words go straight to the heart. Once again, the poem should have come with a tissue warning. So once your eyes are dry, leave a comment if you like.
Do you like what you see at DifferentDream.com? You can receive more great content by subscribing to the quarterly Different Dream newsletter and signing up for the daily RSS feed delivered to your email inbox. You can sign up for the first in the pop up box and the second at the bottom of this page.
Photo Credit: www.freedigitalphotos.net