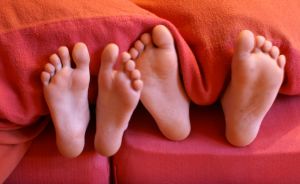 I'd like to introduce you to Stephanie Husted, a new Different Dream guest blogger. You may recall meeting her in September, when she shared the poem she wrote for her son's teacher. Reader response to that post led to an invitation to guest blog on a regular basis. Today, she describes how she longs to write the perfect ending to her medically fragile son's story.
How I'd Like to Write Your Story
I can hear the gentle patter of his footsteps scurrying across the carpet as he dashes into my bedroom in the early morning hours. "Good morning mama," he whispers while climbing into the bed beside me.
"I'm awake," I answer sleepily, as he wraps his tiny fingers into my hair. "Guess who loves you?" he asks.
I find myself smiling from under the covers. This has become our ritual-a game that belongs only to us. I relish these morning moments…as I am able to connect with my son without all of the interruptions and worries that I know we will face as the day wears on.
No one could have prepared me for life with a medically fragile child. It is a day by day learning lesson full of challenges and triumphs, but my son is my greatest teacher. "Hmm"…I say in response to his question. "Does Braeden love me?"
He giggles in response, and nods his head up and down emphatically.
"Guess who I love?" I ask in response, as I tumble out from under my warm comforter.
He silently taps his finger under his chin, as if in thought mode and then says, "Coffee?" I laugh out loud, knowing that life is full of uncertainties…but I am thankful for this moment in time.
Your Story
If I could write your story son…
(Oh how I wish I could)
I'd pen for you a journey
That held nothing but good.
Wouldn't it be perfect
If that job belonged to me?
I think I'd change a thing or two
While writing your story.
I'd write of lasting happiness
The storms would stay at bay
I'd write your story carefully
I'd have so much to say.
You'd know not of a hospital
or days in ICU
You'd only know of simple things
Like other children do.
The sun would rise…Yes everyday
and shine to make you smile
You'd never know a day of pain
You'd never face a trial.
You'd dance to music all your own
While watching Sesame Street
I'd tuck you into bed each night
and life would be complete.
I'd write of picnics in the park
and winters in the snow
I'd write of laughter, joy and love
I'd sit and watch you grow.
I'd proofread till my eyes grew tired
Each line and paragraph
and let my pen fall to the floor
Then stop to hear you laugh.
And never would I question
What sick children must face
Never would I have a need
To ask God for his grace.
If I could write your journey son
Perhaps I'd not convey
The message that HE longs to share
"We must live for today."
Your story has been written
Each stroke penned with great care
He knows each thought I have of you
He's numbered every hair.
No, I can't write your story
Although I wish I could
I must heed what he says to me
"All things work for the good."
If I could write the life you'd live
I'd fail…don't you see?
I'll leave it in much better hands
He'll write it perfectly.
What Perfect Ending Would You Write for Your Child?
Oh my, I know just how Stephanie feels? I so often wanted to rewrite my son's story when he was medically fragile. It took a long time for me to leave the pen in God's hand. How about you? What have you been learning from your child lately? Leave a comment. Read more about Stephanie and her medically fragile son's heart condition at her blog, With a Hopeful Heart.
Do you like what you see at DifferentDream.com? You can receive more great content by subscribing to the quarterly Different Dream newsletter and signing up for the daily RSS feed delivered to your email inbox. You can sign up for the first in the pop up box and the second at the bottom of this page.