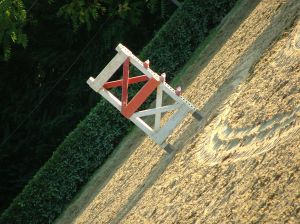 In yesterday's post, guest blogger Kathy Guzzo described the unexpected special needs obstacles her daughter with medical special needs faced in college. She also described how she advocated on behalf of her daughter. Today, she provides several tips parents can use when advocating for children in primary and secondary school as well as in college.
Overcoming Special Needs Obstacles at College, Part 2
Respect + Persistence = Results
There were other situations that came up during her five years at the University, but with each one, we approached it by looking at what would be best for Andrea without trying to take advantage of or brow beat the administration.  Once those involved understood the situation and the need, they were willing to do what they could.  I had to remember that without living it, they wouldn't 'get it' and our responsibility was to inform them so that in the future they would be more aware of the needs a student with a chronic illness may have.
This Is What I Now Know
The following are items I continually try to remember regarding the best way to ask for changes on behalf of a special needs child.
Whether on the phone or in person always be respectful.
Be prepared a list of your questions and or concerns written out to stay on topic.
Have a notebook available to write down the name and date of anyone you talked with, names of numbers of those you may be referred to, as well as important information you are given.
Be firm in the outcome you need, but flexible in developing a solution with those involved.
Don't get frazzled or frustrated if the first solution doesn't work, be willing to try something else.
Be persistent. Don't give up.
Regardless of their age, parents are their child's best, and sometimes only, advocate.  Obviously as they get older they will handle some of the hurdles that come up on their own, but they need to always know that they have someone walking beside them, ready to step in whenever and however they may be needed.
What Can You Add to Kathy's List?
Thank you, Kathy, for allowing us to benefit from your experience. What a great list! Perhaps you learned other strategies as you advocated for your child. If so, please leave a comment for the benefit of all.
Do you like what you see at DifferentDream.com? You can receive more great content by subscribing to the quarterly Different Dream newsletter and signing up for the daily RSS feed delivered to your email inbox. You can sign up for the first in the pop up box and the second at the bottom of this page.