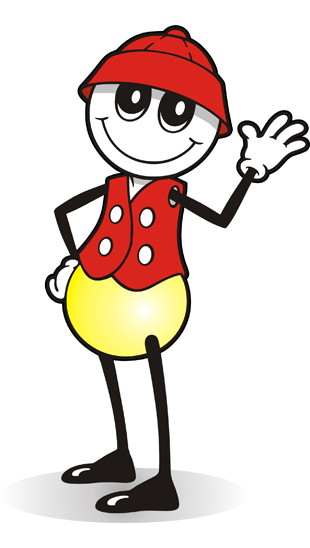 Guest blogger Ellen Stumbo shares a different perspective about special needs today. Rather than posting about parenting, she writes about how important people with special needs are at the church her family attends. Maybe her words will provide the perspective you need today, too.
Our Church Needs Brody
"We have a small church with good people and big hearts."
Andy and I heard this statement when we first candidated at Orchard View Alliance. A sentiment that we now know to be true. Although we are only a few, I love to look around on a Sunday morning and see the faces of our new friends. I smile every time. In our church, disability is normal. Much like in our own family.
Last night, we had our first AWANA meeting of the year. Andy and I are learning the ropes of this children's ministry, and along with Sandy, we are the Sparks leaders. And every time Sandy comes to church, Brody is with her.
Brody is a young adult with cerebral palsy. He has spastic diplegia, just like our daughter Nina. His voice is high and somehow it reminds me of Urkel from Family Matters. Yet once in a while when he speaks, his voice turns deep and you hear the man in Brody. Brody's walk cannot hide the typical gait of CP, yet his servant heart does not stop him from carrying chairs around a room to make sure we all have a place to sit.
As we worked on memorizing John 3:16, Brody listened and participated intently along with the rest of the kids. One by one the children chose to go to the front of the room and try reciting the verse along with the hand motions we made up. After the kids had their turn, Brody asked to have a turn too.
Brody, a 20-something man in front of a room with kindergarten kids. He did the hand motions, he said most of the words. I looked at Sandy, and I knew she was proud. Brody has become like one of her own kids. I then looked at the rest of the kids. It is beautiful when you see children look past disability. There is something touching when you realize that they are not affected by the prejudice of our society. Brody is just Brody, and they too, were proud of him.
Our church needs Brody.
Every church, every ministry would be blessed with the Brodys of this world. Yet, there are so many parents of kids with special needs that do not feel welcome at church. So many adults with disabilities that wonder if they will fit in.
But not last night, not Brody.
Brody's light extends beyond our AWANA nights. Brody, who by this world's standards might seem broken, is spreading God's word and shining his light. Brody is determined to share this verse with everyone he knows. Everyone. A few days ago, one of Brody's care givers asked Sandy to please write down the verse Brody was trying to recite, so she can help him memorize and practice the hand motions. Brody meets with his friends, and he has something to teach them, a verse he learned at church. Brody gathers with his family, and he makes sure they all listen to John 3:16. The word of God, His promise, His sacrifice, shared by a young man that some might believe has little to contribute to society.
Brody's light is shining. He is sharing the message. People are listening. His contribution might just be one of eternal relevance, and I just picture Brody standing before God when he hears, "Well done!" It humbles me. I have much to learn from Brody.
Our church needs Brody. Does yours?
Does Your Church Have a Brody?
Oops! Sorry I didn't mention you might need a tissue while reading Ellen's post. Once you dry your eyes and blow your nose, feel free to leave a comment about the Brody in your church. What is your Brody teaching you? Why does your church need Brody?
Do you like what you see at DifferentDream.com? You can receive more great content by subscribing to the quarterly Different Dream newsletter and signing up for the daily RSS feed delivered to your email inbox. You can sign up for the first in the pop up box and the second at the bottom of this page.