Birthdays and Disabilities Are Like Cake and Ice Cream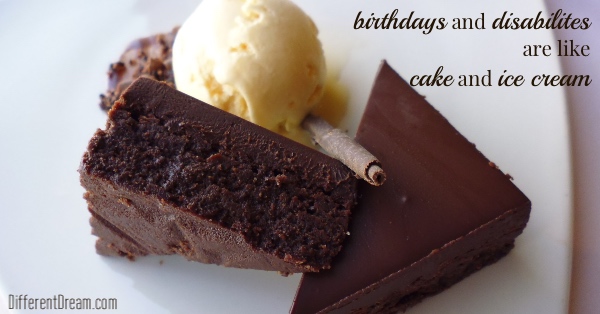 Birthdays and disabilities are like cake and ice cream for my family. We can't have one without the other. For many years I didn't appreciate this truth. Now I do. Today is my birthday again, and I'll welcome joy and sorrow to my party. They've put in appearances before.
I have no doubt that they'll do it again.
They first showed up the year I turned either two or three. I'm not sure which, but it was the first birthday I remember. My mom made a chocolate birthday cake with chocolate frosting. She decorated it with the outline of a clown holding a bunch of balloons. The strings were thinly piped icing and the balloons were round, sour ball candies. Then she covered the cake with foil, put it and me in the car, and drove to where my dad had been hospitalized since his diagnosis multiple sclerosis. We celebrated with him and a little girl he'd befriended. She was a few years older than me and lay on a stretcher throughout the party. She liked the cake and the candies, too.
Two things about that day remain vivid in my mind–her joyful wave when the nurse wheeled her away when the party ended, and the sorrow in Dad's eyes as he waved back.
Joy and sorrow visited on my twenty-sixth birthday, too. My two-month-old son was in a hospital 750 miles away from home, and I was with him. He was recovering from an emergency operation to correct complications related to the life saving surgery he'd undergone at birth. I sat next to our two-month-old's crib and watched his chest rise and fall.
To read the rest of this post, visit Key Ministry's blog for parents.
Do you like what you see at DifferentDream.com? You can receive more great content by subscribing to the monthly Different Dream newsletter and signing up for the daily RSS feed delivered to your email inbox. You can sign up for both at the bottom of this page.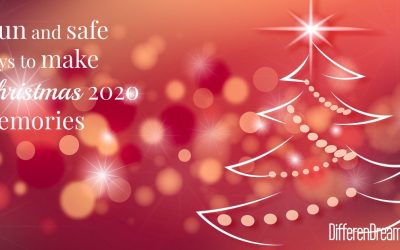 Home for the holidays 2020 can be be a safe, joyful, and memorable time for caregiving families. Check out these creative and fun ideas.
read more