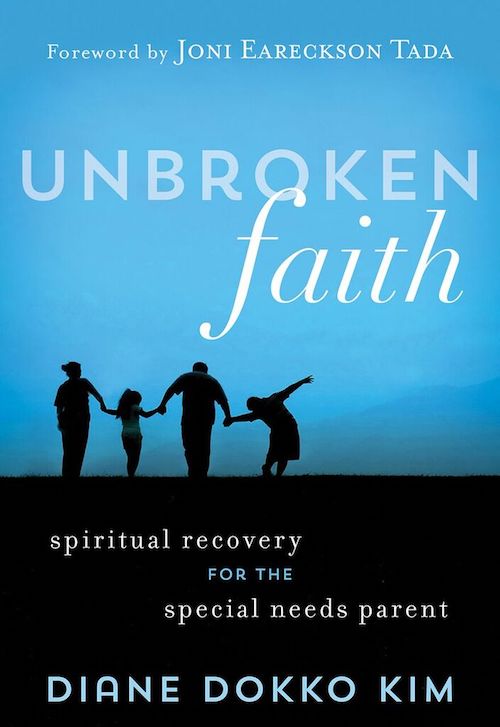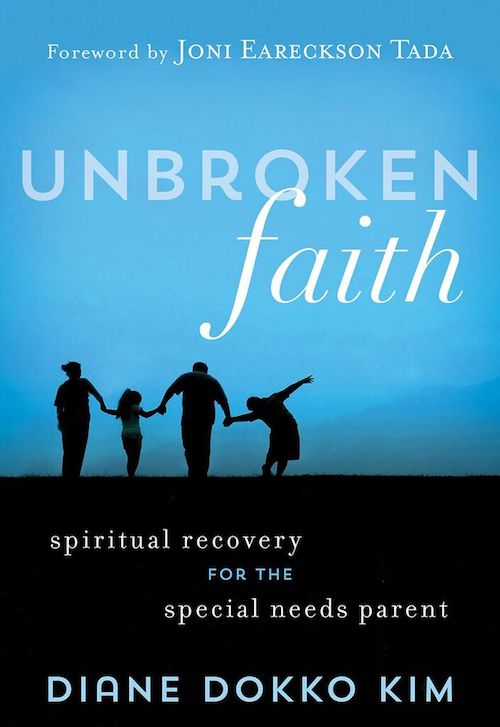 How could God let this happen? I can't do this! How can my child have a meaningful life? Where is God in all this? When a parent hears that their child has a disability, hearts and hopes are broken. But faith doesn't have to be. A Different Dream welcomes guest blogger, Diane Dokko Kim, author of Unbroken Faith: Spiritual Recovery for the Special Needs Parent, for a 3-part series. Today, she graciously shares an excerpt from her new book. Enjoy!
"God won't give you anything you can't handle."
"Special-needs children are a blessing!"
"Trust God. He is good!"
Just stop. Please. In the face of "Severely disabled. Mentally retarded. Prognosis unknown," how is disability a blessing? How is God still good? Our son was cognitively disabled; and I was now spiritually crippled. That single piece of paper severed all existing connections between my head and heart. Any preexisting conditions, convictions, and even feelings went numb as disillusionment and spiritual death hovered near. My faith was flat-lining. We both required urgent and intensive intervention.
God Understands?
Spiritual surgery is not without pain. Pat Sunday-school answers are as helpful as a Band-Aid plastered hastily over a stab wound. Superficial solutions don't stick. Shallow treatment doesn't mend torn tissue or flush out the emotional pus festering deep within. Sometimes you have to cut deep to really deal with what's going on inside.
But what does the Bible have to do with the modern-day, gritty realities of raising a child with a disability? How is this antique, archaic book relevant? What does God know about special needs parenting? His Child was perfect, wasn't He? An impenetrable, omnipotent Being didn't have to contend with chronic fatigue, isolation, or a lack of resources and support. After all, He has all the power of the universe at His disposal. What does God really understand about this?
Consider This
In Genesis, He knows the joyful anticipation of beloved children. He prepared lavishly for their arrival, too, just like every eager parent. He also understands the heartache when those children don't turn out as expected, despite having done everything right to guarantee they do. And His heart was filled with pain.
In Isaiah, He's the Father of a wounded Son who was bullied, misunderstood, rejected, and scorned. He shares my outrage, feral protectiveness, and demand for justice. He advocates for us. Oh, how He fights for us! He knows when we are unable to fend for ourselves. His strength is perfect in our moments of abject weakness. He vindicates
to make our righteousness shine like the noonday sun.
At Gethsemane, He felt completely alone, carrying a burden no one could understand. He experienced utter disappointment when trusted people weren't there for Him at His time of need. He cried out prayers in blood, sweat, and tears . . . that were met with silence. He, too, pleaded for deliverance but received the answer no. He even uttered the same words I've cried out in times of darkness and despair: "My God, why have you forsaken me?" (Mark 15:34).
At the cross of Calvary, for all His power and authority—being in very nature God—He demonstrated submission to "not my will, but thine" (Luke 22:42 KJV). He proved "my grace is sufficient for thee" (2 Corinthians 12:9 KJV).
Ultimately, He demonstrated His power over death and despair. He proved that what the enemy intended for evil, God can redeem for good (Genesis 45:5). He proved that He is a redeeming God, the only kind of God He knows how to be.
Do you like what you see at DifferentDream.com? You can receive more great content by subscribing to the quarterly Different Dream newsletter and signing up for the daily RSS feed delivered to your email inbox. You can sign up for the first in the pop up box and the second at the bottom of this page.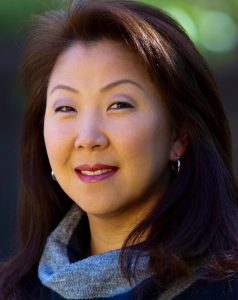 Diane is the mother of a child with multiple disabilities including autism and ADHD. Since 2008, she has served as a special needs ministry consultant, partnering with Joni and Friends as a national speaker, trainer and ministry ambassador. Author of Unbroken Faith: Spiritual Recovery for the Special Needs Parent (Worthy, April 2018), her work has been featured in Orange's Parent Cue, Parenting Magazine, Dandelion Magazine, and Not Alone. Diane's passion is to encourage weary parents and empower them to experience the timeless relevance of God's Word applied to the gritty realities of special needs family life. She and her husband, Eddie, live in the heart of Silicon Valley with their two sons. Connect with her on Facebook or www.dianedokkokim.com where she blogs on being wrecked, redeemed and repurposed.