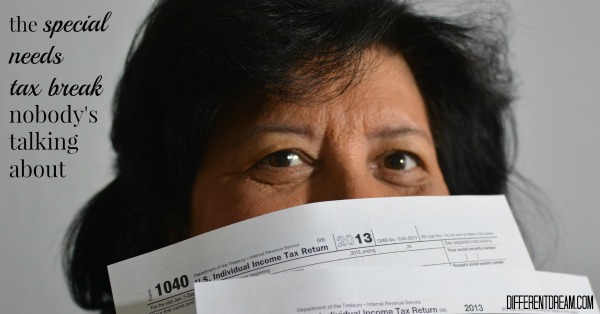 Have you heard about the special needs tax break nobody's talking about? Guest blogger Rachel Olstad to tell Different Dream readers about a special needs tax break her family recently discovered. You're going to love what she has to say. I guarantee it!
My husband and I are fortunate enough to get paid to take care of our adult disabled son. This arrangement began several years ago through our state's Medicaid Home and Community-Based Services Waiver program. We were delighted with the program as it enables us to keep our son in our home – and we're getting paid for something we've been doing for the last 26 years. It's a win-win!
We were even more delighted a couple months ago to discover that our income through the waiver program is income-tax free. Wait! What? Here's the scoop on the special needs tax break nobody's talking about.
Non-related caregivers (think foster care families) have taken advantage of  the Difficulty of Care Income Exclusion (DOC) for adults who live in their home. Parents heard about exclusion and asked, "Why doesn't this include us?" So, in 2014 the IRS issued Notice 2014-7. While it doesn't specifically state that parents are eligible, the notice now includes parents because the adult they care for lives in their home.
We stumbled upon this information when our state changed companies that processed our paychecks. The new company had information on this exclusion on their web page as well as on the paperwork we completed so they could issue our paychecks. When I called and asked the old company why they didn't tell us about the exclusion, they said they could not give any financial advice to individuals. Fair enough.
But why didn't my son's caseworker tell us about it? I don't know. 

But I do know that we took this new-found special needs tax break information to our CPA, our taxes for 2014 and 2015 were refiled. We received a sizable chunk of money from the IRS and from our state. Woo hoo for us! All states may not consider this income as an exempttion, so check your state laws and consult a CPA).
As long as the waiver and this exemption remain intact, this special needs tax break will help us plan for our son's future as we age. The financial advantages will make it easier to find a caregiver to live with our son and become his family when we are no longer capable of taking care of him.
Of course, our trust for provision and for the future ultimately remains in the Lord, not in government programs. But for now, these special needs tax breaks and waivers ease our minds and our burdens. Maybe they can do the same thing for you. Happy Tax Day!
Your Special Needs Tax Breaks?
Do you know of other special needs tax breaks? Give them a shout out in the comment box so more people can access them. Thanks!
Rachel Olstad began her journey into the world of disabilities in 1990 when her oldest child was born with spina bifida and subsequently diagnosed with autism. She volunteers with Joni and Friends Southern Oregon, helping to meet the physical, emotional and spiritual needs of individuals and families affected by disability and encouraging churches to include all people. She was a contributing writer for both Special Needs Smart Pages and Nursery Smart Pages (Gospel Light), has been published in the Journal for Religion, Disabilities & Health, and was an assistant editor on Beyond Suffering: A Christian View on Disability Ministry. (Christian Institute on Disability)
Do you like what you see at DifferentDream.com? You can receive more great content by subscribing to the quarterly Different Dream newsletter and signing up for the daily RSS feed delivered to your email inbox. You can sign up for the first in the pop up box and the second at the bottom of this page.
Save