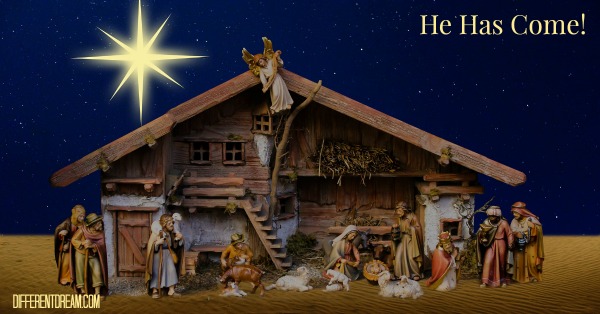 Guest blogger Kimberly Drew and her husband found their faith tested when their new daughter received a life-changing diagnosis. In this post, she explains how her struggles during this Christmas season led her to a place of rest.
He Has Come: When the Divine Meets Diagnosis
I'm sitting across from a beautiful neurologist. She's trying her very best to deliver difficult news. I hear her say, "I believe we are headed in the direction of cerebral palsy."
I smile and tell her something like, "It's okay. That's what we were expecting," that I wasn't surprised.
My parents are with us for the visit, and I can feel the mood in the room change, so I quickly started assuring everyone, "I'm okay. It will be okay."
It's amazing how fast I can change gears from being parent to daughter to wife. A quiet hand squeeze in the elevator between my husband and I and that was that.
I slept like a baby that night and didn't give it a second thought. I told a few people about how the visit went and thought all was well in my soul. Then I found myself in a staff meeting at the Christian school where I teach. During prayer requests, I decide to mention it.
That's when the wall goes down. I'm in tears and trying very hard to pull it together.
I do my best to process, but when the day closes I find myself in absolute hysterics. I turn up the music and water in the bathroom so no one will hear me crying. But at a certain point, I realize that if I don't stop crying I might actually be sick.
Time to go to bed. I lie there and the questions start rolling. What if I can't do this again? What if my marriage can't handle two children with special needs? What if I get depressed or my anxiety comes back? What if I gain more weight trying to cope with the stress of doctors and insurance and the unknowns? What if, what if, what if…
I think that questions will continue to roll in, and only time will quiet my fears. In these moments I feel so far from where I need to be as a human being, and I have so much to learn. A quiet thought settles my spirit. I think of how the answer to every fear and question can be discovered in one simple phrase. He has come.
In Luke 1:68 Zechariah prophesies the birth of Christ, "Praise be to the Lord, the God of Israel, because He has come to his people and redeemed them."
In the Christmas season, we remember and celebrate the birth of Christ. We remember and celebrate that He has come to his people and redeemed them. He has come…He has come for me. He has come to redeem, and what He redeems heaven will restore.
I will will find rest in that. I choose to find rest in that. When the "what ifs" try to steal my joy and rob me of moments that I can never get back, I will repeat the words He has come to myself. I'll do my best to pursue the One who came as an infant King in a dirty wooden manger all the way to a bloody wooden cross in order to pursue me. And when I can't understand, or process, or breathe, I'll remember that Christ has come.
Friend, if you're reading this you probably know exactly how I feel. I just want you to know that I understand. What you're feeling is real, and validated, and so very hard. But I hope you will take a minute to think about the fact that Christ came for you. Out of a desperate love and desire to see you redeemed, he came for you.
Save