Special Needs Parents and PTSD: What About You, Mom?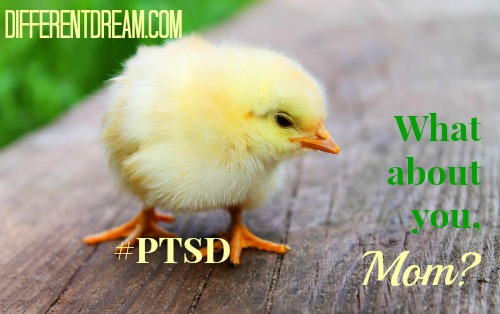 PTSD and parents. I don't want those two words to go together in the same sentence. Ever. But the truth is that PTSD and parents (especially the special needs variety)  spend way too time in one another's company. That's why Different Dream launched its series about special needs parents and PTSD last week with a review of what its
recent parent survey shows
. Today's post comes from
Jolene Philo
, who recently came to grips with the trauma surrounding the birth of her first child in 1982.
What About You, Mom?
A few hours after our first child's birth in 1982, he was life-flighted to a hospital 750 miles away for life-saving emergency surgery. For the next 4 years, my mother hen instincts were absorbed in caring for my little chick. Life felt like a revolving door as my husband and I watched him go in and out of the doctor's office, in and out of the hospital, in and out of surgery way. That revolving door left very little time for self-examination or working through the trauma I had experienced after his birth.
So I shut the door to my emotions and kept them safely under lock and key for years–even decades–after our son's health stabilized. Those emotions remained stuffed away until 2008 when our son, then 26, was treated for PTSD caused by all the early, invasive medical trauma he had experienced.
I was sitting in the trauma clinic's waiting room minding my own business when one of the therapists stopped by to visit about our son's progress. After confirming that our boy was progressing well, the therapist looked me in the eye and asked, "What about you, Mom?"
I had no idea why he was asking the question. "I'm fine," I replied, puzzled.
He raised a quizzical eyebrow. "Is that so?"
For several years I ignored his question whenever it niggled in my brain. But then last fall, something happened to someone I love dearly, and that event unlocked the door to my emotions. Long hidden emotions came tumbling out. Once again I felt as alone and weak and helpless as the day the doctor took my newborn baby away. I felt stuck in the past, unable to move beyond the constant sense of worry and loss surrounding me.
I described my feelings to my sister, a mental health counselor. "You went through a lot when your baby was born," she confirmed. "And you never processed your emotions. I think some Eye Movement Desensitizing and Reprocessing (EMDR) therapy might help you." She did some online research and sent contact information for several therapists in our area and advice about dealing with our insurance. A few weeks later, I scheduled my first of several weekly appointments with a compassionate and skilled therapist. A few months later, she said we were done.
By then we'd become friends. I was sad to say good-bye to her, but I knew she was right. I no longer felt stuck. I could think about the early days and years of our son's life and maintain an emotional distance that kept me from getting sucked back into them. Leaving her office for the last time, I resolved to share my experience with other parents of kids with special needs so they can find help and process their emotions soon after soon after they are traumatized.
If you think special needs parents and PTSD are living side by side in your life, I urge you to seek treatment. Follow these steps to find a therapist:
Ask your insurance company for a list of mental health therapists in their network.
Identify therapists on the list who have specialized trauma training.
Check them out on the internet.
Call their offices and ask them about their trauma training and therapy techniques.
Make an appointment with a therapist that best matches your needs.
Go to a few appointments. If you see red flags or don't feel comfortable find a different therapist. But if you see progress, keep going until you've worked through your emotions.
So What About You, Mom?
That's my story, and that's my advice. But before signing off, let me ask you a few simple questions:
What about you, Mom?
What about you, Dad?
What about you?
What about you?
Subscribe for Updates from Jolene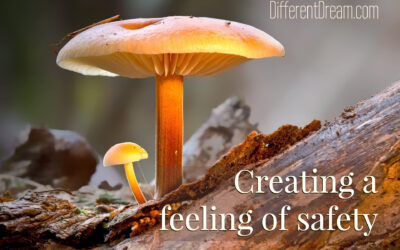 Whether your loved one suffers from trauma or dementia, the best question a caregiver can ask is, "How can I make you feel safe?"
read more