Special Needs Parents and PTSD Survey Results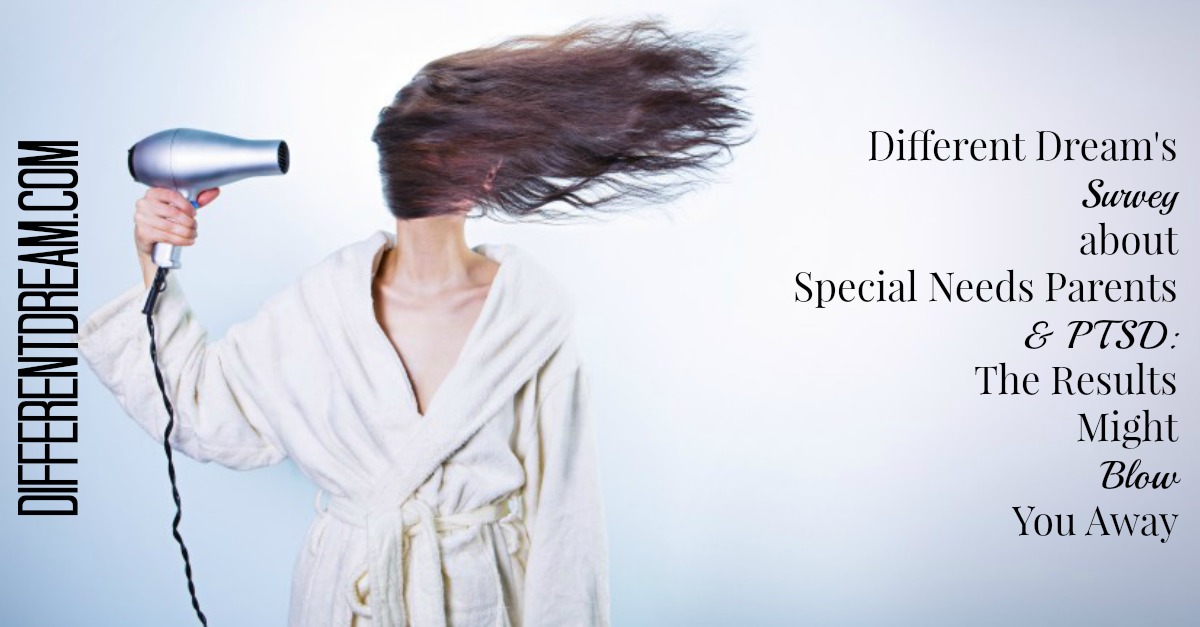 About a month ago, Different Dream first posted a survey about special needs parents and PTSD. Since then, and despite all sorts of tech issues that made this site hard to find, 49 people completed the survey. They took the time to tell their stories–many of them heartbreaking–because they want to raise awareness about the issue.
This post is the first in a series, based on the survey results, about special needs parents and PTSD. In future posts, you'll hear from some of the people who participated in the survey–with their permission, of course. But for today, the series examines the results of the study.
Question #1
Do you think you have PTSD that was caused by your child's special needs? All 49 participants answered this question. 90% said yes. 10% said no.
Question #2
Have you been diagnosed by a mental health professional or doctor with PTSD? Again, all participants answered this question. 30% answered yes, they have been diagnosed with PTSD by a mental health care professional. 70% said no.
Question #3
Have you received professional treatment for PTSD? Of the 47 people who answered this question, 30% said they have received professional treatment for PTSD, but 70% said they have not.
Question #4
Did professional treatment help you cope with your traumatic memories? 36 people answered this question, even though only 14 said they have received professional treatment. 30% (16 people) said treatment helped them cope. 70% (20 people) said it did not. Hopefully, we can presume those who actually received treatment were the ones who responded positively.
Question #5
When did your initial traumatic experience occur?
Here are the comments parents left in the box:
Post adoption
During hospitalization
Right after she was born with her first diagnosis of cancer at 6 weeks of age.
At birth
Birth
At birth with first TEF baby and in NICU with second TEF baby
Yes during birth
Before birth
After birth
Began when we adopted her from Russia.
Premature birth, NICU
After diagnosis of stroke when she was 8 months of age
About a year after my first son was born. The first year is all about survival. When the dust starts to settle everything hit me like a brick. I managed to find a balance again. We found out we were pregnant with our second little boy. 24 weeks into pregnancy I found out he two would have the same disorder as his brother. Moments later the brick hit me again. It's been over a year since the diagnoses and he is 8.5 months old. I'm still struggling.
At birth and in the NICU for 6 weeks. (preemie, born 10 weeks early)
I am raising my grandson, who is my son's son, but due to circumstances at that time, he was not around. I was stunned that the mother wanted to give him up, so that was my first moment of panic. Then slowly realizing something was "not right" and thinking perhaps it was a connection/bond he was missing with his mother, I finally took him to the doctor where I left completely stunned by the diagnosis. Our lives took a sudden huge turn. I have learned a lot about PTSD. I know I probably need to take time and deal with my own, but I'm so involved in the caregiving process on so many levels.
Before birth
At birth, his first year spent mostly in hospital, his about 30 surgeries, for about the 4 years he stopped breathing about 6 times a day, the 2 times he almost died of kidney failure. Then my daughter started having supraventricular tachycardia episodes and mental health issues.
When my son was admitted to the hospital at 5 days old
With in the first month of my son's birth
diagnoses before birth
NICU
When my child was 5 weeks old
At birth and many subsequent scary near losses
Diagnosis and afterwards
Birth, NICU, fighting for him during his first two years, heart surgery, and then bleeding
I'm not sure if I can pinpoint the first experience. It could be the emergency C-section required at birth, the multiple ear infections as a baby, the increasing symptoms of autism in the first 2 years, the diagnosis at 27 months, or when it all finally hit me 3 years after diagnosis. I'm not positive I HAVE PTSD, but I do have major anxiety and clinical depression.
In NICU
At about age 2 when his behavior and CP were first diagnosed
birth
at diagnosis
At diagnosis (newborn) and multiple times throughout growing years
About three years after he was born, after the the calm after the storm
At diagnosis
Both at the time of my sons near drowning accident and once again last year when he stop breathing and had to be rushed to the hospital in an ambulance
During his traumatic birth
At diagnosis
I believe the sudden death of my first husband had barely shown signs of what it did to me, then after remarrying our 16 month old was diagnosed with a brain tumor, after 18 visits to emerge starting at 16 weeks we begged for an MRI
During NICU but didn't get help until probably a year later
When we met him in China (adoption)
NICU after his adoption
Before birth of my first child. Reactivated immediately after birth of my second (HIE) once she was taken away
I would guess at birth, but maybe just along the way, sooo many things!
Around diagnosis, at his first seizure
Before child's birth and then continued at her birth, NICU admission, heart failure, and chronic medical problems that ensued. It peaked when medical professionals accused us of making our child ill and reported us to state child protective services. Thankfully, their claims were quickly thrown out as invalid, but it amplified the PTSD.
Before birth, NICU and subsequent surgeries and diagnosis
At birth
Question #6
What is your child's special needs diagnosis? The diagnosis ran the gamut from conditions caused by birth trauma, congenital abnormalities that required medical treatment or surgery at birth and a NICU stay, autism, epilepsy, developmental delays, RAD, and mental illness.
Question #7
Are you interested in contributing a blog post to DifferentDream.com's upcoming series about special needs parents and PTSD? Of the 47 people who answered this question, 25 said yes. If you're one of those people, thank you for your willingness to share your story. And watch your inbox for an email very soon about what to do next.
Did the Survey Results Surprise You?
Here's what surprised me about these results….the number of parents dealing with PTSD for a long period of time without treatment or support. This makes me very sad because treatment is available and effective. So in addition to the stories survey participants will be contributing to this series, considerable time will be devoted to effective treatments and how to locate them.
So, did the survey results blow you away? Leave a comment about your reaction in the box below. Thanks!

Do you like what you see at DifferentDream.com? You can receive more great content by subscribing to the quarterly Different Dream newsletter and signing up for the daily RSS feed delivered to your email inbox. You can sign up for the first in the pop up box and the second at the bottom of this page.
Subscribe for Updates from Jolene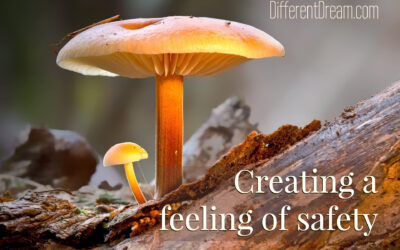 Whether your loved one suffers from trauma or dementia, the best question a caregiver can ask is, "How can I make you feel safe?"
read more