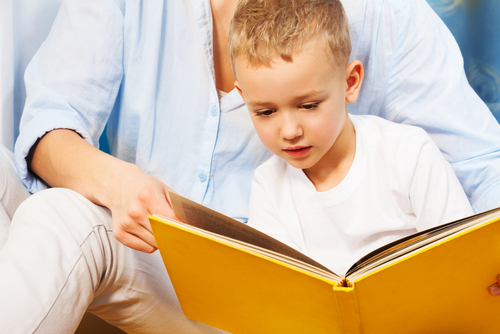 August has arrived, and that means school is just around the corner. Guest blogger, Erica Fener of Progressus Therapy is here with ideas about how to help our kids maximize their ability to understand what they read.
5 Ways to Help Kids Improve Reading Comprehension
If your child with special needs has difficulty with reading comprehension, you can help improve it. Following are five ways to help your child increase reading comprehension.
Read Short Segments
Your child's reading comprehension will increase if you break down the story into small segments and then discuss what happened before continuing the story. Read one or two pages, stop, and talk about what has happened so far. Discuss questions such as:
Who are the characters in this story?
Where does this story take place?
What do you think might happen next?
As your child thinks about and responds to these questions, he or she becomes more engaged in the story, taking an interest in the characters and what happens to them. Also while reading the short segments, ask questions about a previous segment and repeat some of the questions already answered. This helps cement retention in your child's mind.
At first, it's okay if you get through only a small portion of the story or if your child has difficulty remembering details. Reading comprehension is a skill that is built slowly. Focus on gradual building of comprehension rather than instant improvement.
Relate Story to Real Life
As you read a story, ask questions related to the plot such as, "Does this remind you of something?" or "Have you ever felt that way?" or "Have you ever gone to a place like that? What did you do when you were there?" When your child connects what's happened in the story to his or her life, details are easier to understand and recall. This skill strengthens over time as your child practices it more and more.
Use All Five Senses for Reinforcement
Increasing reading comprehension involves more than just reading text. Oftentimes, children with special needs learn best if they use more than one sense at a time. Listening to an audio CD of the book while following along on the written page gives children both the ability to "see" the text and to "hear" it at the same time. If a book is also available on DVD, your child may benefit from acting out the story along with the characters on the screen, or acting out some scenes in the story immediately after they've been read.
Use Art to Reinforce Plot
Making construction paper cutouts of scenes from the book, coloring pictures that depict events in the plot, or making figures out of clay or play-dough also aid comprehension while also being very enjoyable. Such exercises are more concrete than simply reading about what happens to the characters.
Repeat
Repetition is one of the most important ways to help your special-needs child increase reading comprehension. Whether that means reading the same story every night and/or simply going back within the story and rereading a certain segment to clarify what's happening, repetition is key. Repetition increases comprehension, both when your child is read to (and allowed to follow along) and when he or she reads to you. Not only does this establish the plot in your child's mind, but the words used in a particular story become more familiar, too. Finally, doing this "story repetition" at least in part at night before your child goes to sleep is a great way to increase retention. Research has shown that "sleeping on" information encourages retention.
How Do You Support your Child?
How about you? What strategies do you use to help your child with special needs improve reading skills? Leave a comment to share your ideas.
About the author:
Erica L. Fener, Ph.D., is Vice President, Business Development Strategy and Analysis at Progressus Therapy, a leader in connecting their candidates with school therapy jobs and early intervention service jobs.
Do you like what you see at DifferentDream.com? You can receive more great content by subscribing to the quarterly Different Dream newsletter and signing up for the daily RSS feed delivered to your email inbox. You can sign up for the first in the pop up box and the second at the bottom of this page.
Photo credit: Shutterstock