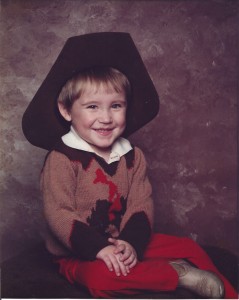 31 years ago today, our first child was born at 12:35 AM on a Sunday morning. Like all mothers, I remember the details of that day at Lookout Memorial Hospital in Spearfish, South Dakota with perfect clarity. But my memories are different than those of many other new parents. The joy of the memory of our son's arrival is tinged with sadness and gratitude.
I remember breakfast being interrupted with the news that our son was having trouble breathing.
I remember the food going tasteless when the doctor advised transferring him to Rapid City Regional Hospital for tests.
I remember being alone when the pediatrician from Rapid City called a few hours later with a diagnosis.
I remember wishing my husband hadn't gone to take a shower at a friend's house.
I remember the doctor saying the words tracheoesophageal fistula for the first time.
I remember telling that stranger to life flight our newborn to the University of Nebraska Hospital in Omaha for immediate surgery.
I remember crying so hard my husband could hardly understand my words when he returned.
I remember him taking my hand and praying for our son while tears streamed down my face.
I remember when the call arrived that our son had survived the trip.
I remember the surgeon calling at midnight to say Allen was doing well after surgery.
I remember my relief and more tears when once again, I relayed the doctor's words to my husband.
For thirty years now, I have relived the events of that day every May twenty-third. I glance at the clock throughout the day and think the same thoughts.
This is when the doctor interrupted breakfast.
About now, the call came from Rapid City with a diagnosis.
Allen took his first airplane ride on an afternoon like this.
He went into surgery about now.
The rest of this post can be found at the Not Alone website.
Do you like what you see at DifferentDream.com? You can receive more great content by subscribing to the quarterly Different Dream newsletter and signing up for the daily RSS feed delivered to your email inbox. You can sign up for the first in the pop up box and the second at the bottom of this page.