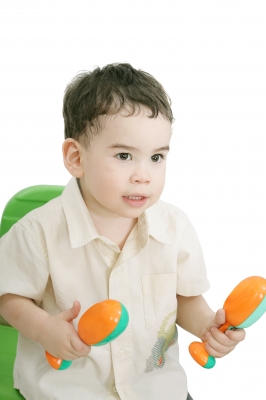 Music is an effective way to promote learning in kids. That's why the ABCs are set to music, why School House Rock tunes remain successful decades after they first appeared, and why music therapy is an effective intervention for kids with special needs.
Meet Ryan Judd
Ryan Judd is a certified music therapist who blogs at The Rhythm Tree. He posts weekly video blogs to show parents and professionals how to use music therapy strategies with children who have special needs. He explains and demonstrates the techniques thoroughly and keeps them so simple, his ideas can be used by people who can't carry a tune in a bucket.
5 Simple Music Therapy Strategies You Can Use
Judd's blog about creative and easy ways to make music with a child who has special needs caught my eye. In it he explains and demonstrates how to execute these 5 music therapy strategies:
Use simple percussive instruments to connect and bond with a child
Create music with a child with autism to increase eye contact and facial referencing
Use motivating instruments to help a child with special needs gain communication skills
Adapt traditional melodies so that you can personalize them to your child's or client's needs
Create rhythm to further engage a child while singing with him or her
Ryan explains each technique at the beginning of the video post and demonstrates it's use with a young boy who has autism. The little guy becomes visibly more engaged as they work together. It's fascinating stuff you won't want to miss. So hop on over to Creative and Easy Ways To Make Music with a Child with Special Needs to see for yourself.
Music Therapy and Your Child
Has your child benefited from music therapy? How? Would you recommend other parents pursue it for their kids? Why or why not? Leave a comment about your experience if you like!
Do you like what you see at DifferentDream.com? You can receive more great content by subscribing to the quarterly Different Dream newsletter and signing up for the daily RSS feed delivered to your email inbox. You can sign up for the first in the pop up box and the second at the bottom of this page.
Photo Credit: www.freedigitalphotos.net