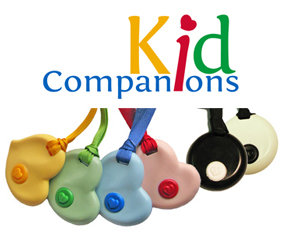 Hey, friend, thank you for visiting Different Dream. Today and tomorrow, I'm visiting with Lorna d'Entremont. She and her daughter, Pierrette, own KidCompanions Chewelry, a business that makes chewable jewelry for kids with special needs. In Part 1 of the interview, Lorna, the mother of three, grandmother and former school teacher, explains how the business came into being and describes the products their company creates. I hope her story in an encouragement and inspiration to you.
Question 1:  Your company, KidCompanions  creates "chewelry" for kids individuals with special needs. Usually, such endeavors have their roots in a family special needs experience.  Is that true for you? If so, could you share a bit of your special needs journey with DifferentDream.com readers?
This is absolutely true! Our KidCompanions Chewelry came about because Pierrette, my daughter and business partner, was looking for something safe for her young child to chew on instead of her fingernails, clothes, and toys. Both Pierrette and one of her three daughters have Tourette syndrome.  Pierrette's daughter has various associated conditions like sensory issues, anxiety challenges and some ASD traits. She was born at 30 weeks and weighed about 2.5lbs. It was the sensory issues that we noticed first, as even wind or water caused negative reactions. She was three when we realized how effective chewing on her baby sister's homemade polymer pendant was. She'd calm down a bit and stop gnawing on her shirt collars.
When Pierrette returned from university she desperately wanted to work but she knew she needed some accommodations to work around her Tourette. What better way than to own her business, be her own boss, and control her work schedule and environment to cater to her own medical needs and the needs of her family. She ran a successful, fine jewelry designing business for a number of years.  When the "aha moment" about the need for a stylish, safe chew necklace came about her keen eye for detail, and having business and computer smarts made it easier for her to start her Chewelry business. First we had to make sure there was a market for a chew necklace.
We had not realized how many individuals with special needs could benefit from an age-appropriate oral-motor tool until Pierrette plunged in and started researching online. During this time, we entered our Chewelry idea in a provincial innovation competition and won 2nd prize. This included a market study done by The Sobey School of Business in Halifax, NS. This study included testimonials from special needs parents and health professional and the report was very clear. There is a need and there was a lack in effective products addressing sensory issues, especially oral motor issues at school, at play or in public settings.
So in 2006 began her journey to get her KidCompanions to market. Pierrette used strict quality control and extensively researched her materials. She reduced her carbon footprint by sourcing from North America and having her products manufactured in Canada in a medical grade, clean room facility.
KidCompanions are designed to North American safety standards. They are safe, bpa, phthalate, pvc, lead and latex free accessories. Pierrette worked on patents,  got international insurance, used FDA approved material,  and has  a CPSIA (Consumer Product Safety Improvement Act) 3rd party testing certificate…the paper work was endless. Now we look back and are so pleased we accomplished all that before launching our SAFE oral-motor tools.
Question 2: What observations do you have about parents of kids with special needs based on your contact with them through your company?
Most of my life I have been involved with the special needs community. I am the mother and now a grandmother of children with Tourette and sensory issues. During my teaching career, I have often worked closely with parents of students with special needs. Now many parents who buy KidCompanions write to us about their children and their relentless efforts to find the products that will best help their child. I am truly amazed at the great lengths these parents take to become better informed about the condition/symptoms/treatment of their child. Their dedication is inspiring!
One mom from New Zealand wrote me the other day saying she had taken online courses about a method that a therapist was teaching that she feels will benefit her son. Other parents become volunteers in their child's school and gain knowledge on the successful strategies used with their child so they can continue to use them at home.  One mom explained that the early intervention program her child attended had a room for parents with a two way mirror. Many parents observed their child`s complete morning or afternoon sessions to be able to continue at home what the professionals were doing.
Some parents move to different school districts with better special needs programs. Some families I know have even moved to a new country to find adequate health care.  Often one parent leaves her/his full time job to be a stay-at-home parent to be able to juggle the demands of a child with high needs.
Parents are the masterminds and elbow grease behind successful support groups and conferences, more school based services, special needs web sites, newsletters, summer camps, family retreats, conventions, and the list is endless.
Nothing can bring about change faster than a group of dedicated, well-informed parents. Knowledge is truly power. To do our small part in helping parents to become informed, we have a special needs blog on our KidCompanions Chewelry site. I post about new studies, new books and their authors, information on autism, Asperger's, sensory processing disorder, Tourette, ADHD, mental health, education, early intervention, IEP's, etc. We have a few guest posts written by experts in the field of special needs and parents of children with special needs.
Question 3: Does KidCompanion have any new products coming out soon?
We are continually monitoring our market place and new materials to produce our pendants. We have invested time in designing the next three pendant shapes we would like to have. The minimum order our manufacturer allows is 1000 pendants of the same color and shape, therefore we must be sure of our market before placing our orders!
Since the Spring of 2012, lanyards, in three lengths to accommodate young kids, teens, and adults, can be bought separately.  We now also have our Clip-on lanyards sold separately. Many parents get the necklace one for daytime wear and the extra clip-on one to attach to a pillow or bedding at night or on a seat belt while in a vehicle.
Parents, teachers, and therapists like the reduction in price when they buy our Multi Packs. This Spring we have six different groupings of KidCompanions all with reduced shipping as well as a reduction in price.
What Product Ideas Do You Have?
Isn't that a great story? Do you have questions for Lorna? If so, leave it in the comment box. And come back tomorrow for the second half of the interview. Lorna will tell us about her special needs book review website and give advice as the grandma of a child with special needs. Until then, visit the KidCompanions Chewelry website to learn more about their products and read their blog which covers a wide range of special needs topics.
Do you like what you see at DifferentDream.com? You can receive more great content by subscribing to the quarterly Different Dream newsletter and signing up for the daily RSS feed delivered to your email inbox. You can sign up for the first in the pop up box and the second at the bottom of this page.