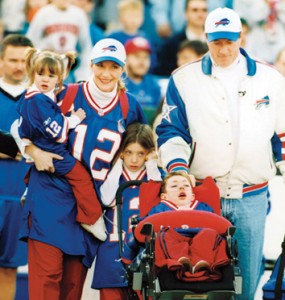 Today DifferentDream.com welcomes Jill Kelly for the first of two Q & A special needs parenting sessions. Jill and her husband Jim, former quarterback for the Buffalo Bills, are the parents of three children – Erin, Hunter, and Camyrn. Hunter, their second child and only son, was diagnosed with Krabbe Leukodystrophy as an infant and died when he was eight. In 1997, they founded the Hunter's Hope Foundation to address the acute need for information and research with respect to Krabbe Disease and related Leukodystrophies.
A few weeks ago, Jill and I spent an hour talking. Today's post relates what her family learned from Hunter. Tomorrow's post will be about how they remain active in the special needs community.
Would you share some of your special needs journey with DifferentDream.com readers?
Until and after diagnosis, we didn't consider Hunter as special needs or handicapped. Because his condition was terminal, we treated him as terminal. It wasn't until Christ intervened and we put our faith in him that we considered him as living. Early on, we were afraid and desperate. Our education was a continuous learning to let go and to let others come into our lives. Though Jim had an public career, we were a private family until we started sharing Hunter with therapists and caregivers. Everyone gained – Hunter, them, and us. Our girls never saw Hunter as a child with special needs. He was who he was, and they saw beyond the special needs to the person inside.
How did being Hunter's mom change you? How did he change your family?
God used our one and only son to bring us to his one and only Son. Everything fell into place after that. Hunter had to have everything brought close to him so he could experience it. He taught me to be patient, to stop and be still and take in God's creation. Most people don't pay attention to those things or to anything God shows us. So Hunter opened our lives to the gift of life, to the gift of breath. I also learned to hold plans loosely because plans change quickly with a child who has special needs. Hunter taught me how temporary our lives are, how we are being prepared for eternity. He also taught us not to be afraid of death and suffering, but to trust God's sovereignty because all suffering reveals God's greater glory.
Jim learned a great deal, too. He recognizes he is not in control. Jim's a natural leader, so surrendering control wasn't easy. He now leads from the heart of God. He's always had a great deal of compassion, but he's compassionate in a different way now. He's much more thankful for people, mindful what volunteers give, and appreciative of people.
Our daughters, Erin and Camyrn, learned to be humble and compassionate. They see beyond material things.
Who's been your greatest support other than God?
My mother. We came to faith together. Her relationship with Hunter was willing, generous, and loving. She's been an amazing example for me and our daughters. Erin once said, "I love Granny as much as I love you, Mom." Our girls see her love poured into their lives.
What was the best piece of advice you were given when Hunter was with you?
After we received the diagnosis, my Uncle Mark visited. He said, "Jill, you'll never know what real love is until you know love through his Son." I didn't understand what he meant then, but his words made me want to know. That's when I started to seek after God.
What encouragement do you have for parents of kids with special needs?
Trust that God's grace is sufficient in both your darkest valley and your greatest triumph, so persevere. This isn't the end of the story. The story culminates in no more tears or suffering. Because we know what's coming, we have hope in the moment.
Share Your Thoughts
Thank you, Jill, for sharing your journey with us. Did her words touch you? Encourage you? Inspire you? If so, leave a comment to encourage Jill. And come back tomorrow to learn about how her family continues to advocate for children with special needs.
Do you like what you see at DifferentDream.com? You can receive more great content by subscribing to the quarterly Different Dream newsletter and signing up for the daily RSS feed delivered to your email inbox. You can sign up for the first in the pop up box and the second at the bottom of this page.