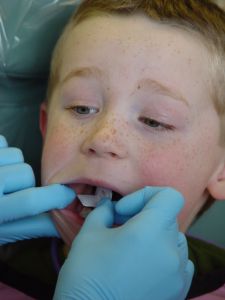 A couple weeks ago, a friend sent an email requesting prayer for her adult son who has severe cerebral palsy.
Not because he was sick.
Not because he was having surgery.
But because he was going to the dentist.
Dental Care for Kids with Special Needs Can Be a Big Deal
A trip to the dentist doesn't make the ten list of fun things to do for most of us, but it's no big deal. However for people with special needs, it can be a very big deal. In the case of my friend's son, every trip to the dentist requires general anesthetic for routine teeth cleaning and filling of cavities. Again, no big deal for most of us, but general anesthetic does a number on him. After his most recent dentist visit, his bowels shut down, and he ended up in the hospital overnight until everything got moving again.
Dental Care for Kids with Special Needs Can Be Impossible
Even without physical complications, a trip to the dentist can be almost impossible to many children and adults with special needs. The dentist's office can over-stimulate those with sensory issues, causing meltdowns. A recent post at DisabilityScoop.com listed other disturbing reasons. The article states, "At the heart of the problem: money and knowledge. Medicaid offers notoriously low reimbursement rates for dentists, so few accept the government health insurance program. And in some states, Medicaid doesn't cover oral care at all. Meanwhile, some dentists are simply uncomfortable meeting the needs of individuals with disabilities since they often don't receive training on how to serve this population while in dental school."
Special Needs Dental Care Advocacy
A few organizations are advocating on behalf of dental care for children and adults with special needs. An article at the website for ABC News mentions two such organizations. The first is We Care, a California volunteer group organized after the state dropped dental care for adults on Medicaid. The second is Special Olympics Special Smiles. Considering the special needs population and their dental care requirements, those two organizations can't possibly provide enough help.
What's Your Experience with Dental Care for Kids with Special Needs?
Those of you with successful experience in this area could help others by sharing your stories. Does your child with special needs – whether still a minor or an adult – receive adequate dental care? If so, how is it delivered? What organizations or practitioners provide care? How is it funded?
If your child doesn't receive adequate care, what has been your experience in the past? What obstacles have hindered proper care? What is needed in your area to change this situation. What needs to happen so your child can smile?
Do you like what you see at DifferentDream.com? You can receive more great content by subscribing to the quarterly Different Dream newsletter and signing up for the daily RSS feed delivered to your email inbox. You can sign up for the first in the pop up box and the second at the bottom of this page.