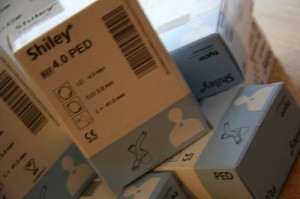 About a month ago, the mother of Parker, a little boy with special medical needs, described an organization she called "the special needs underground."
Praying for Parker
Tammy, Parker's mom, blogs about parenting at Praying for Parker: Raising a Special Needs-Kid in a Typical World. She blogs about Parker's medical adventures and also about homeschooling him. It's interesting reading, so you might want to check it out.
Special Needs Underground
In this particular post, she blogged about the doctor's suggestion for changing out Parker's trach tube more often. The suggestion seemed reasonable, except from past experience, Tammy knew the insurance company would be belligerent. And further investigation revealed the trachs cost $200 a pop.
So Tammy turned to the special needs underground, which sounds Mission Impossiblish, but it isn't. In fact, the concept is sensible, economical and good for the environment. You can read about how Tammy's trying to set up an underground in Utah at www.prayingforparker.com. As I said before, it's pretty interesting reading.
How About You?
Do you have experience with a Special Needs Underground in your state? Or do you know of similar programs parents could tap into? If so, please leave a comment so more kids get the medical supplies they need at a reasonable cost!
Do you like what you see at DifferentDream.com? You can receive more great content by subscribing to the quarterly Different Dream newsletter and signing up for the daily RSS feed delivered to your email inbox. You can sign up for the first in the pop up box and the second at the bottom of this page.