Tips for Families Traveling with Disabilities and Special Needs
Tips for families traveling with disabilities and special needs proliferate online as spring break and good weather draw near. Guest blogger Kristin Faith Evans and her family actually experience this type of travel whenever they go on vacation. Today she shares her best tips with Different Dream readers.
Our family enjoys vacationing together. But traveling with our daughter's disabilities and medical needs can create a lot of stress for everyone. Over the years, we've discovered ways to make our trips go more smoothly. We hope these tips for families traveling with disabilities and special needs help make your vacation the best ever.
Research Disability Accommodations
Request assistance in advance when making reservations. Ask for a room on the ground level to avoid the extra challenges of elevators and stairs. When flying, request disability assistance and pre-boarding when you book your flight.
Study destinations before you go and stop at guest services when you first arrive. Most theme parks offer special services including shortened wait times and sensory calm down areas. Ask if your stroller needs a special tag so you can take it in the lines.
Bring documentation of your child's developmental and medical diagnoses including required accommodations, medications, and emergency instructions. You may need this letter at the airport, amusement parks, and customs.
Plan in Extra Time
Approach the trip with realistic expectations and flexibility. Plan out your schedule, then cut out some of the activities to allow for some down time. Build in extra time so you don't feel rushed. This will lower your stress level and your child's.
Type Up a Packing List
Gather special items, medications, and medical supplies. Forgetting the toy could equal meltdowns. Use a list to make packing less stressful and to ensure that you don't forget anything. And begin packing early. Take extra of everything, especially medications.
If you're flying, divide the list into sections—carry-on suitcases, personal bags, and checked bags. Split up important supplies between suitcases. Organize for going through security by packing all liquid medications, formula, and special drinks together in the same bag to easily pull out. Take noise reduction headphones and lollipops to prevent earaches.
Create Visual Supports
Social stories, a picture schedule, a first-then board, and/or a token board can help your child's emotional regulation and behavior. Use a timer to prepare everyone for transitions. If flying, check to see if a mock flight program is available in your area.
Bring a Surprise Bag
Little treats and activities can go a long way in entertaining and improving your child's mood and behavior. Pull out new sensory toys, chewy toys, movies or apps, and fidgets. If appropriate, use a token board for your child to earn small prizes.
Plan for the Beach
Choose a beach with ramps and free beach wheelchair rentals. There are also usually stores that rent wheelchairs for a daily fee. Consider investing in a beach wagon as well.
Make applying sunscreen fun by allowing your child to:
Draw in the lotion
Dab with a makeup sponge
Sing a silly song
Get a massage
Earn a reward
Play on their tablet
Create a Safe Zone for your family. Mark off an area with cones, rope, or by drawing lines in the sand. This visual will help your child know the boundaries and allow everyone to relax more.
What tips for families traveling with disabilities and special needs have you discovered? Please share them in the comment box.
Do you like what you see at DifferentDream.com? You can receive more great content by subscribing to the monthly Different Dream newsletter and signing up for the daily RSS feed delivered to your email.
Kristin lives with her husband, Todd, and their two children in the Nashville, TN area. As an author and mental health therapist, her greatest passion is walking with others on their journey to deeper emotional, psychological, and spiritual wholeness. As both her children have rare genetic disorders, Kristin especially loves supporting other parents of children with special needs. She hopes that you may find encouragement and support through her two websites and blogs, www.KristinFaithEvans.com and www.SpecialNeedsMomsBlog.com.
Subscribe for Updates from Jolene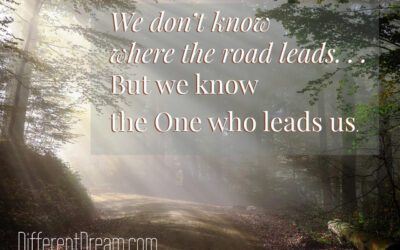 Jolene explains how in our circumstances, no matter how dire, God uses whatever it takes to grow our reliance on Him.
read more