Ways To Speak Gifts and Acts of Service to Kids with Special Needs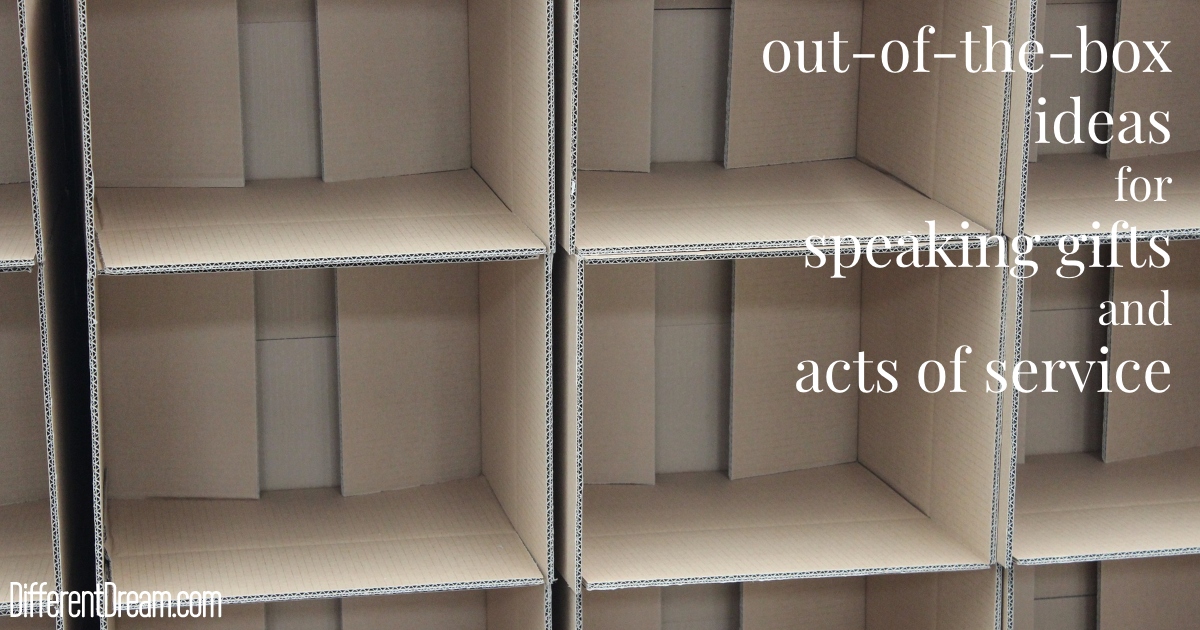 Ways to speak gifts and acts of service to kids with special needs are plentiful. All you need are these ingredients mentioned in the previous post in this series about using the 5 love languages in special needs families:
Determine the child's love language. To learn more about how to do so, check out this post.

 

Brush up on a couple child development concepts. These two posts in the series offer a quick review: Love Is a Child's First Language and Sharing Love Abundantly in Special Needs Families: The 5 Love Languages® for Parents Raising Children with Disabilties.

 
Chapter 6 of Sharing Love Abundantly has oodles of stories from parents raising kids with disabilities and special needs about how they speak gifts and acts fo service in their families. Plus the end of the chapter lists more ideas, all of them field-tested by special needs families. Here are some ideas to get you started.
Gifts
Trip to the thrift store to hunt for treasures.

Found or scrounged objects like a feather or cardboard boxes.

Color a picture and give it to your child.

Mail a package to your child when you're out of town.

Grocery store treats like string cheese, yogurt, granola, or candy.

Make a special meal or dessert.
Acts of Service
Teach your child how to self-advocate.

Complete one of your child's chores on a particularly hard day.

Take your child to library story time, sporting events, or church activities.

Create a birthday activity tradition (rather than a birthday meal) for a child with a feeding tube.

Role play social skills such as making introductions or saying please, thank you, and excuse me.
These are just a smattering of the love language ideas found in Sharing Love Abundantly. The next post in this series will feature ideas about how to adapt Physical Touch for kids with special needs, along with some safety precautions. It's one you won't want to miss!
Other articles in this series:
The Love Languages and Special Needs Families: A Good Combination
Basic Love Language Concepts to Ease Stress and Increase Joy in Caregiving Families
Threats to Caregiving Marriages and How To Fight Them 
Love Is a Child's First Language
Determining the Love Language of a Child with Special Needs or a Disability 
Ways to Speak Words of Affirmation and Quality Time to Kids with Special Needs 
Speaking Healthy Physical Touch to Kids with Special Needs
Using the Love Languages with Siblings of Kids with Special Needs and Disabilities 
Extended Family Members Can Use the Love Languages to Encourage Caregiving Parents
Communicating Your Child's Love Language to Medical Professionals
Do you like what you see at DifferentDream.com? You can receive more great content by subscribing to the monthly Different Dream newsletter and signing up for the daily RSS feed delivered to your email.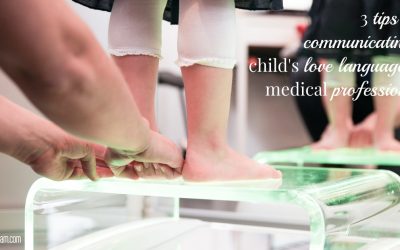 What's the best way of communicating your child's love language to medical professionals? This post offers 3 tips to get you started.
read more