Working Together Wins at Church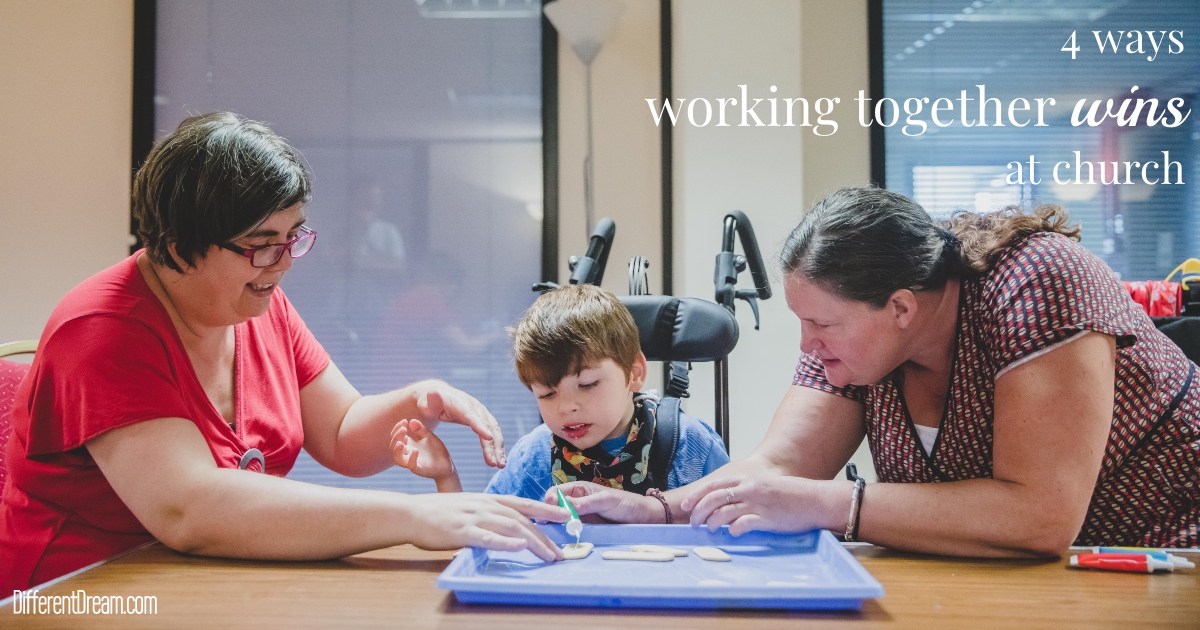 Working together wins because it makes us stronger, better, successful, and more focused than when we work apart. This is true when families, children's and youth workers, and those who work with children and young people with special needs or disabilities. Here are some examples of how working together wins.
Supporting children makes us stronger at supporting everyone
Strategies that support those with special needs and disabilities are beneficial to the wider congregation. Support can look like :
Learning some sign language.
Using a range of sensory teaching techniques to keep children's focus and attention.
Providing buddies for children who need someone to assist them.
Thinking carefully about what we say. For example, instead of saying "Let's stand to sing!" say, ""We're going to sing now; let's sit, stand or even dance, as you feel comfortable. God really doesn't mind!")
Collaborating makes for better transitions
Child with special needs (and their families) may find it difficult to move up from one age group to the next, especially when they move from the children's programming to the youth group. Leaders can make the transitions easier by collaborating on a gradual transition instead of parachuting kids in on one Sunday and hoping for the best.
For example, bring a child with special needs into the older group for a short visit to the older group. Increase the length of the visits over the course of several weeks until kids are fully transitioned. This coordination results in the minimum of stress and anxiety for the children, their families, and program teams. 
Pairing older church members with kids makes successful buddies
Many children with special needs or disabilities benefit from having a one-to-one buddy who offers support at church. The role of a buddy requires empathy, love and understanding, as well as good old-fashioned common sense. Older church members are often a perfect fit for the role. They might not see themselves leading games, songs, activities and talks, but they may appreciate the role of caring for a child or young person. Many children respond well to the grandparent generation. Forming a close and meaningful bond benefits both the adult and the child. 
Teaching church-wide focus lets everyone learn together
If the vision, mission, and teaching of the church is shared in all areas of church ministry, the themes will more likely be absorbed by everyone in the family. When parents pick up their children, leaders can send notes about what was explored. Parents will see that the adult teaching was similar, so they can work through this further with their children.
Working together wins at so many levels. It makes sense for everyone and offers significant benefits for young people with special needs and disabilities and their families. It begs the question: Why not try it when we know that working together wins?
Image ©Urban Saints, used with permission.
 Do you like what you see at DifferentDream.com? You can receive more great content by subscribing to the monthly Different Dream newsletter and signing up for the daily RSS feed delivered to your email inbox. You can sign up for the first in the pop up box and the second at the bottom of this page.
Mark Arnold is the Additional Needs Ministry Director at Urban Saints, a leading national Christian children's and youth organization. He is co-founder of the Additional Needs Alliance, a national and international advocate for children and young people with additional needs or disabilities. Mark is a Churches for All and Living Fully Network partner, a member of the Council for Disabled Children and the European Disability Network. He writes an additional needs column for Premier Youth and Children's Work (YCW) magazine and blogs at The Additional Needs Blogfather. He is father to James, who has autism spectrum condition, associated learning disability, and epilepsy. To find out more about how Mark's work can help you, contact him at: marnold@urbansaints.org or @Mark_J_Arnold.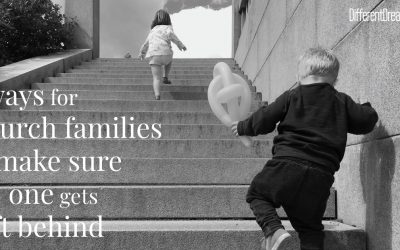 These 5 tips can help children and youth workers ensure that church family means no one gets left behind as building programs open up again.
read more